Are you ready to start your natural wellness journey?  I'd love for you to join my tribe!  I'm passionate about empowering people to change their lives with the Young Living lifestyle!
I want to see you walking in wellness, purpose, and abundance.  I want you to be free and empowered to be the person the world needs you to be.  Healthy bodies take healthy souls more easily into their destinies, and this is one of the big reasons I share about essential oils. The everyday items that we buy at the store and take for granted like toothpaste, deodorant, face wash and more are almost always full of chemicals that are slowly poisoning us.  I know that sounds harsh to say, but it's the simple truth. You may think I'm crazy (join the club! :-)) but I really believe that this is part of the plan of Satan to kill, steal, and destroy us! If he can get us to slowly poison ourselves, and trick us into not realizing what we are doing, you'd better believe he will keep it up! He would LOVE to take us down like that. Without a fight. If we are dealing with issues in our bodies, we are going to be less available to do what God has called us to do!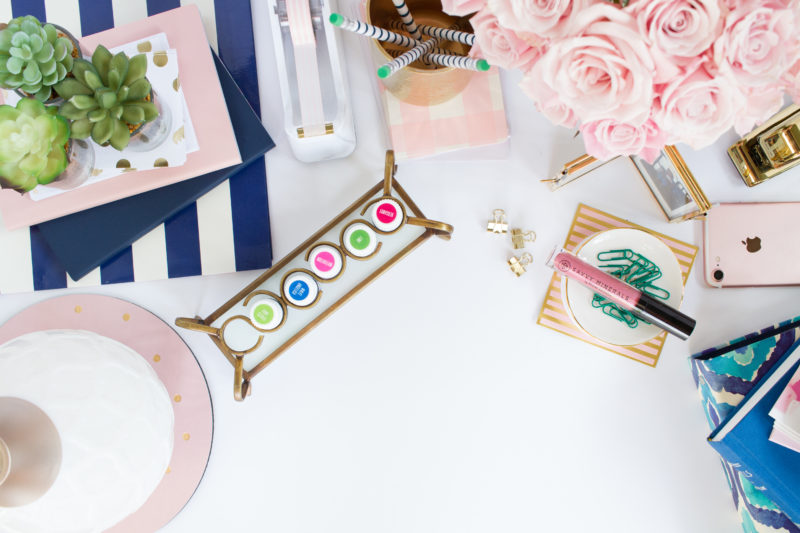 I want your family to experience the same freedom that we are experiencing. The freedom of knowing that what we are putting on and even in our bodies is safe for us. The freedom of knowing that we aren't destroying our gut bacteria or increasing our toxic loads or slowly poisoning ourselves with our normal everyday products. We have found this freedom with Young Living, AND all of this awesomeness shows up on our doorstep every month so I don't even have to haul my kids out the door to get it. #praisethejesus 
To enroll with my group, click this link and sign up as a wholesale member.  It should send you directly to the page you see below, but if not, make sure that 2016622 appears in both the 'Enroller' and 'Sponser' ID boxes.  Doing this will ensure that you a part of my team.  Yay!  We're going to have so much fun together!
When you sign up as a wholesale member/distributer, you will get 24% off retail prices – yippee!  You are not obligated to sell anything or make any minimum monthly purchases.  However if you are interested in sharing oils and developing a business I will be thrilled and honored to support you on that journey!  The Young Living business is changing my family's life and I'd love to be a part of it changing yours too.
Now you'll be selecting your enrollment kit.  I always always always recommend the $160 Premium Starter Kit with the Everyday Oils.  It's the best deal, and it's about $300 worth of products + your enrollment fee for only $160!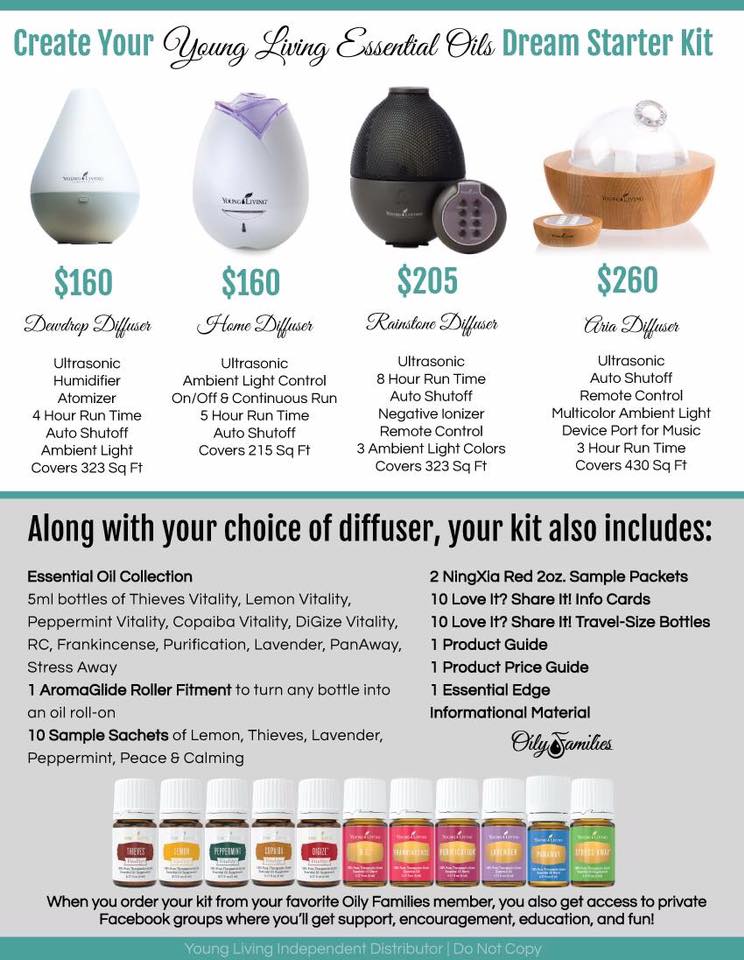 Select the Premium Starter Kit. (These screenshots is old, I'm working on updating them soon! #fourkids)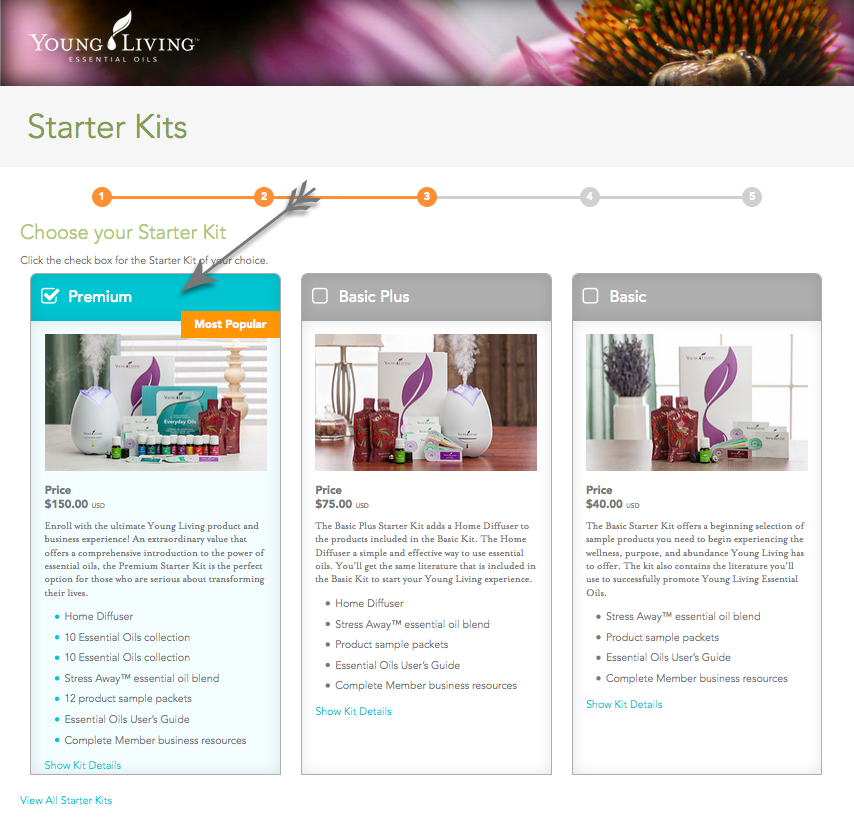 Next you will have the option to select an Essential Rewards kit.  This is not required, but if you are really ready to start living the Young Living lifestyle, I highly recommend it!  By purchasing one of these kits (which are also a great deal), you are signing up for a monthly ordering program called Essential Rewards.  This program gives you the ability to earn points back to be used for free products, gives you reduced shipping rates, access to special monthly promotions, and the ability to receive commissions any time you share Young Living with your friends and they sign up for their own account.  Once you start to see how amazing all of the products are and how they are changing your life, you will realize how Essential Rewards is a no-brainer.  It really saves you money.  The $50 minimum monthly order is super easy to reach with items you'd be buying at the store – toothpaste, shampoo (unless you no-poo like me), mouthwash, cleaning products, supplements etc. – in addition to essential oils.  Being a part of this program does not mean that you have to sell anything – there is no pressure whatsoever!  It is just an agreement to order each month in exchange for some great benefits, with the option to cancel anytime.  Here is more information about Essential Rewards.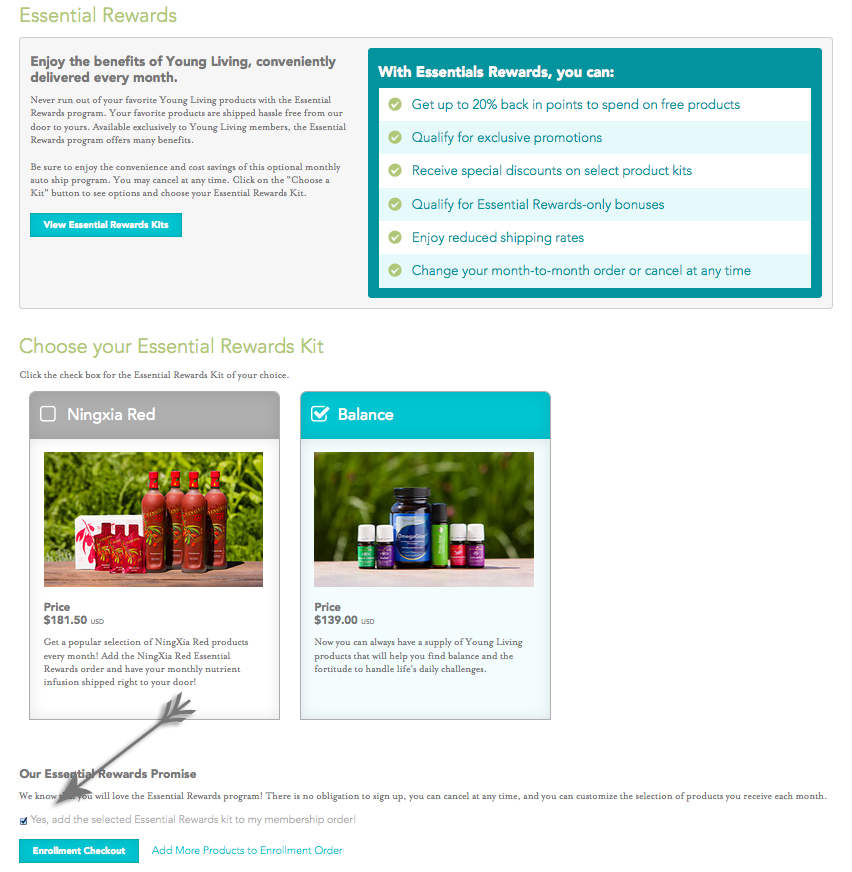 Not ready for Essential Rewards?  No problem, it is not required!  If you want to add a few other products to your order, you can (I highly recommend Valor, Ningxia Red, Peace & Calming and Deep Relief), if not, great!
You can finish checking out and sit back and wait for your oils to arrive and the beginning of the rest of your life to start!  Congratulations!!!  I'm so excited to walk this journey with you!!  I will send you some information to help you get started, and will add you to our Facebook group where you can ask questions and see how others are using their oils.
SaveSave
SaveSaveSaveSave
SaveSave