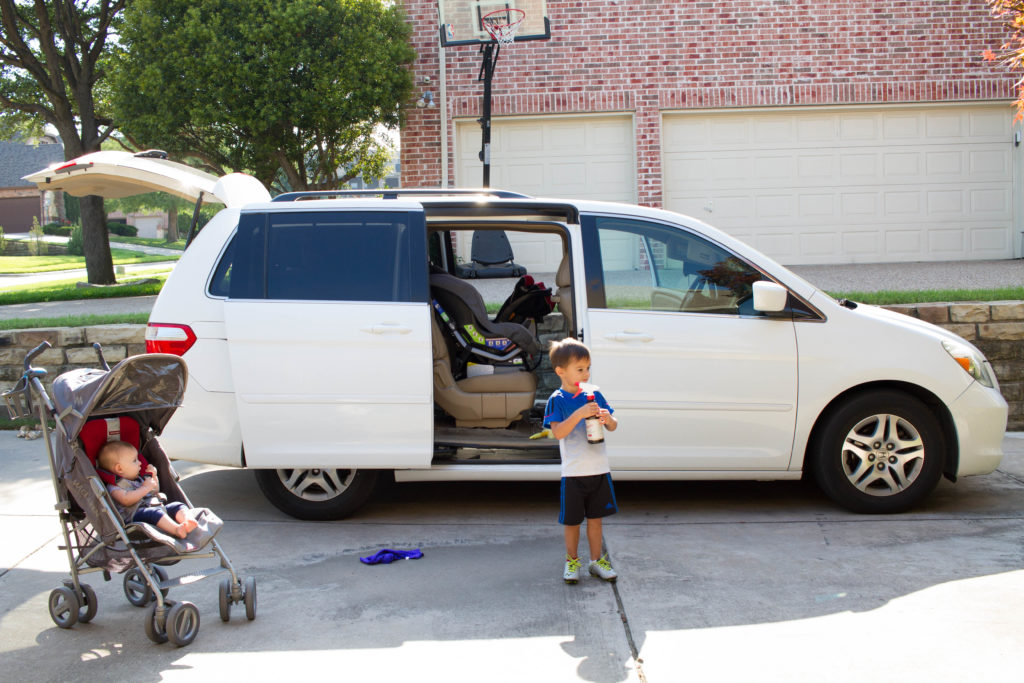 For years I wrote on this blog all the time.  But when my third son was born in 2014, I found I could no longer make writing a priority and my blogging came to a screeching halt.  That is a nice way of saying, 'my baby was born, and weeks later my husband was back to working his full time job plus his part time job in the tech booth at every local game of our local AAA baseball team, so he was gone all day and all night all the time because there are zillions of games in a baseball season and I barely had time to remember my own name, much less write out my deep thoughts for a blog.'  But something major happened in our lives after that third son was born, and I've always been sad that it hasn't been publicly recorded here on this blog of mine.  Now that I'm back to writing on this little blog, I want to share with you, The Story of Our Van.
*********************************************************************************
Things had been tough.  In September of 2011, Jake had experienced his second job loss in two years, when the company he'd been working for abruptly shut it's doors.  We stumbled around for a while while he took a job that couldn't pay our bills, and in April 2012, he got a new job in sales that was 100% commission.  It was a scary time.  We already only had one car, because the lease had been up on my car the first time he'd lost his job. When that happened, we used the car savings we'd set aside to live on, and we hadn't been able to catch up enough since that loss to buy another.  We were just about ready to start saving again when he lost his job the second time.  This time, between the job loss and the commission style pay of his new job, we were drowning.  We missed mortgage payments, we were late on all our bills, we couldn't buy our kids shoes when they needed them, and we literally needed a miracle every single month for twelve consecutive months even though Jake was working sometimes two or three side jobs and I was working my photography business.  I learned so much about mindsets and growth in this season.  The loss of our third baby was the final nail in the coffin for my already taxed and over extended adrenal glands and it took a full year for my body to recover some equilibrium.  Twenty twelve was the hardest year of my life, and you can imagine the strain all of this put on our marriage.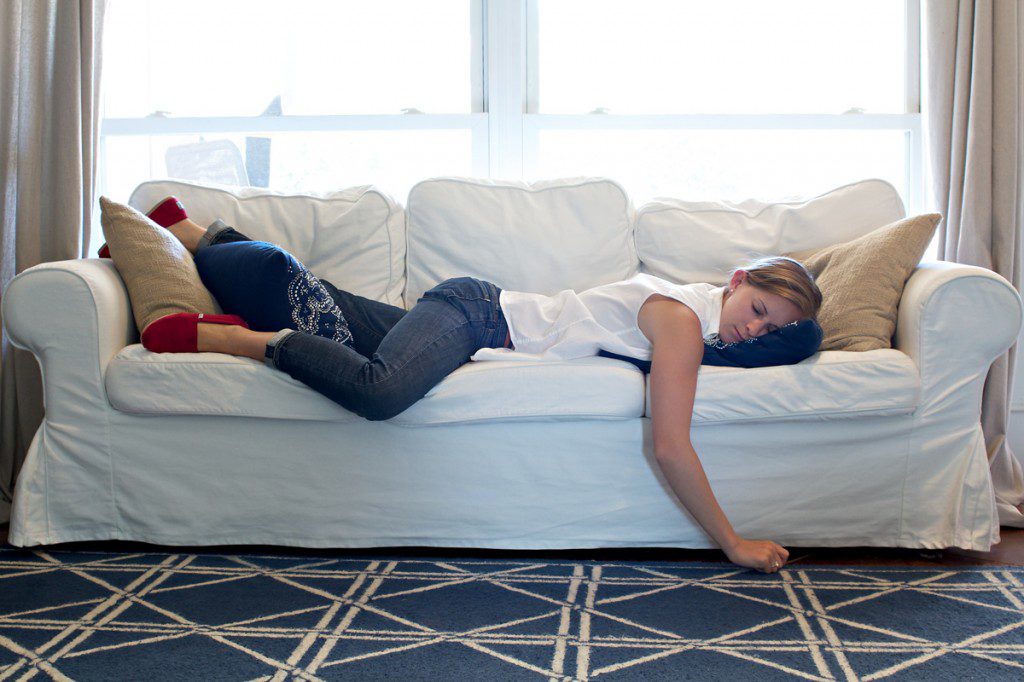 The entire year of my recovery I was so painfully aware of how not-pregnant I was.  I'd wanted my baby so bad, and I desperately wanted another baby.  It ached to watch my little baby tolddler turn into a big toddler with no baby coming up behind him.  We knew that we knew from past experience that God provides for babies, so when I began feeling like my old self again in the summer of 2013, we decided it was time to try again even though things weren't completely stable with our finances yet.
When I became pregnant in late summer of 2013, we prepared that we were going to have to buy a new vehicle once this baby was born.  Remember, we were a one-family car.  Fortunately by now, Jake's job had a company car, so I was no longer stranded at home all day like I had been for two years.  But that car was teeny tiny and would not accommodate three carseats any way you sliced it.  We had a little bit of money saved, not much but a start, and we knew that we could be disciplined to save throughout the pregnancy so that by the time baby was born, we'd be able to buy something.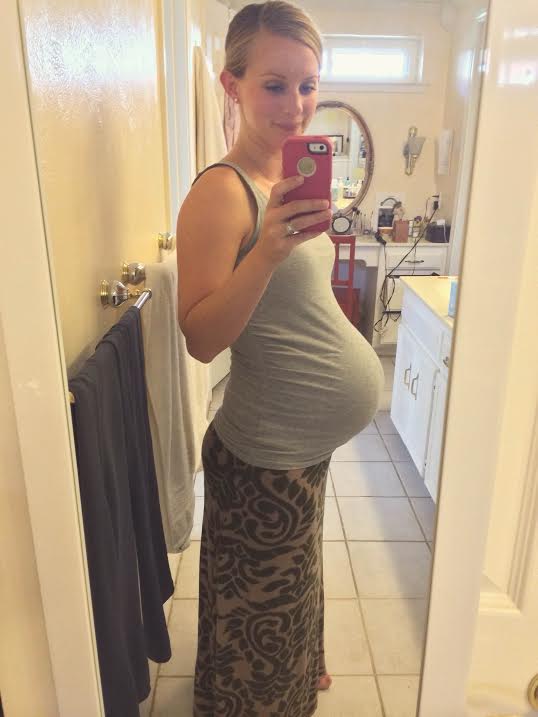 But that fall, one thing after another kept happening to Jake's jobs, and the company he worked for wasn't structured very effectively, which resulted in their sales team having a really hard time bringing home any money.  Once again, there went our car savings.  In fact not only did our car savings go, but we got back into the cycle of being behind on bills and not really making ends meet.  It was a stressful time, but I knew that I knew that I knew in my bones, that God was going to provide me a minivan.  I knew what kind of van I wanted, and I wrote it out on a running list I kept on my phone titled, "God is going to provide…"
In my Monday night Bible study every week we would be praying in and believing for my van.  Some weeks I was full of faith, other weeks I was a mess of tears and doubt, but I knew it was coming.  Because it had to.  It had to.  We had to have a vehicle that would hold all of us, and the one we had wasn't going to do that.  I remember crying because someone had gently run into our car in a parking lot, denting the bumper.  "I need that car to be in as good a condition as it can be so we can sell it, because we only have $200 in our savings account right now!" I sobbed.  It felt like everyone around me were living these neatly ordered and structured lives where everything went as it should and progressed neatly and in a linear and timely manner, while my life just continued to get messier and more disastrous.  Those pregnancy hormones man, they'll straight up lie to you.
My redemption rainbow baby Ransom Joseph was born on March 26th, 2014.  His very birth was another miracle story for us to add to the list of miracles our lives were accruing over these tough years.  He was born three weeks early, and we still only had that $200 in our savings account.  High on the miracle of his birth, I began getting excited for when our van was going to show up.  A week went by, then two. There were soooo many ways I had thought of for God to do this for me – I had been thinking and dreaming about it for months!  But the way it happened was not one even close to anything I had come up with myself.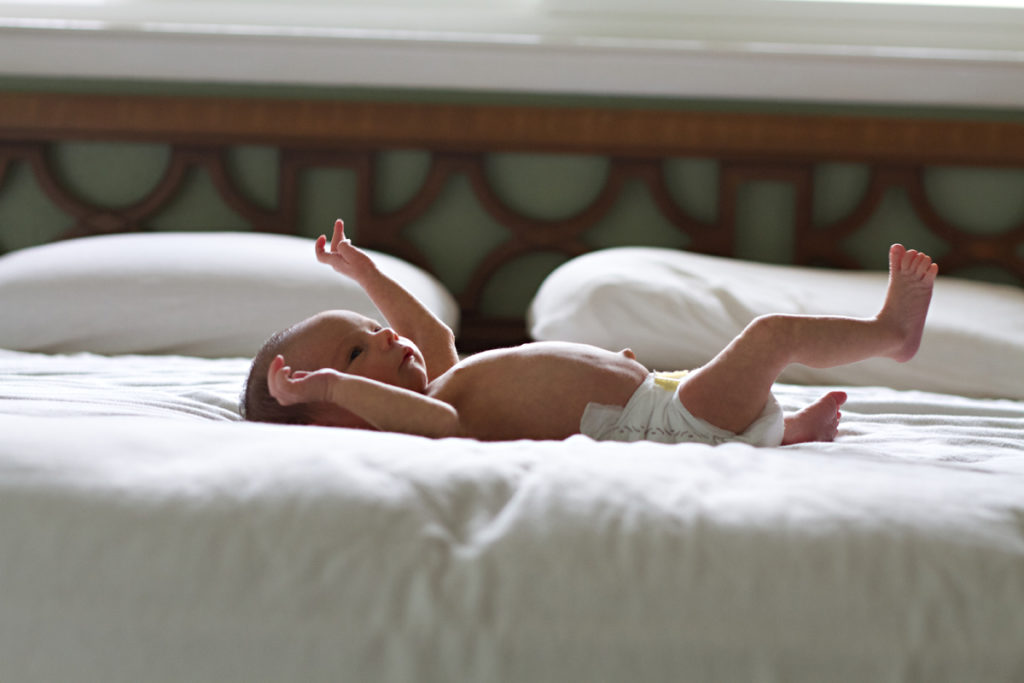 My bestie Ashley had signed up to bring us a meal the evening of April 9th, 2014, and she called me and told me to put on makeup, that she and her husband were both coming over and we were going to make it a little at-home double date.  I groaned and told her I didn't want to put makeup on.  She insisted, telling me it would make me feel good to be fixed up a bit.  This is the equivalent of your best friend making sure your manicure was fresh the day before she knows your boyfriend is going to propose.  Anyway, I showered and put on makeup and real clothes, and was in the backyard wiping down the patio furniture so we could eat outside.  All of a sudden I was hearing what sounded like a parade or a football game.  The door to the backyard was in line with the front door of our house, and I could see outside into our front yard through the storm door.  All of a sudden I saw another of our couple friends walking up to our house, but not Ashley and Jeremy.  At first I thought, "Oh fun, Casey and Cheryl are going to join us too!"  But then I realized with a blossom of goosebumps appearing all over my body, that this was the moment that I had been anticipating.  It really was a lot like getting engaged now that I think about it!  The anticipation of something you know is coming, waiting, not knowing when it's going to happen.  Anyway we came outside onto our front lawn, and there were about a dozen of our friends and family carrying balloons, and cheering like rabid football fans.  Tears run down my face as I type this y'all.  I half expected to see a van drive around the corner and pull up to our house, but instead someone walked forward with an enormous Publisher's Clearing House style check and some flowers and gave them to us.  We were a mess y'all.  A HOT MESS.  Tears, snot, confusion, joy, embarrassment, shock, awe, gratitude, laughter, it was all there.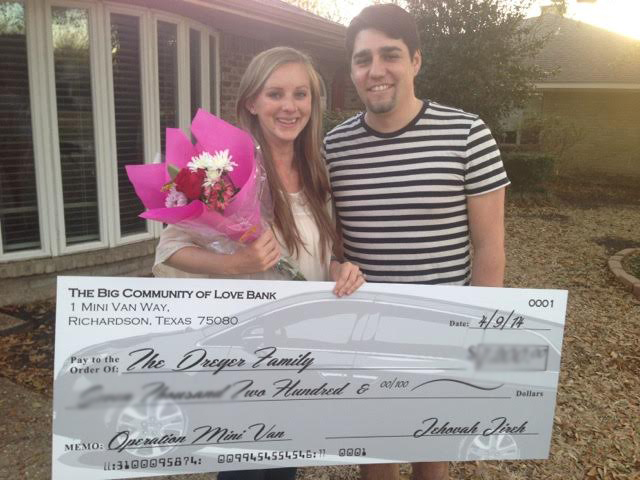 Unbeknownst to me, months before, Ashley had started a GoFundMe page (which was relatively new at the time) and had spread the word to all of our friends and family.  People that loved us and walked with us and listened to me cry in Bible study week after week wondering how it was going to happen, had secretly crowd-funded so that we could buy our minivan!  Y'all!!  We had NO idea, and basically everyone we knew was in on it.  No one gave it away!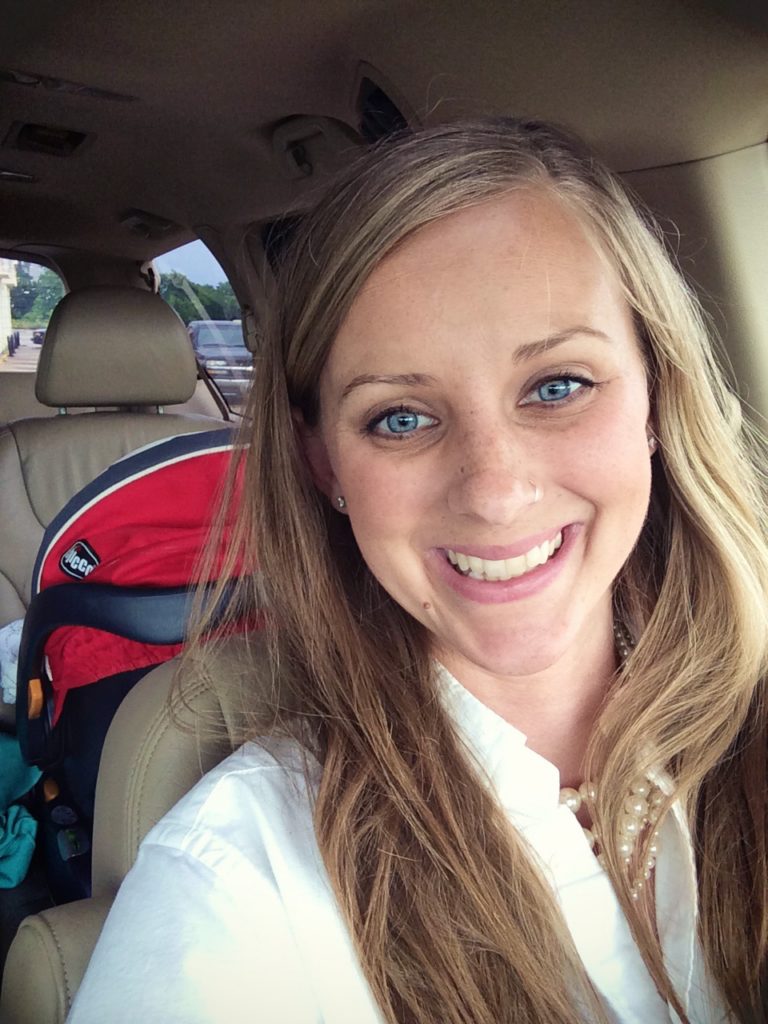 A month later, my dad and I drove down to Houston with baby Ransom in tow to pay cash for the exact minivan I had written down in my note.  I was breastfeeding while I signed the papers!  It was the most surreal day, as dream-come-true days always are.  When I got home, we all piled into our glory van, including Crystal who was living with us at the time and took a joy ride.  We couldn't believe it.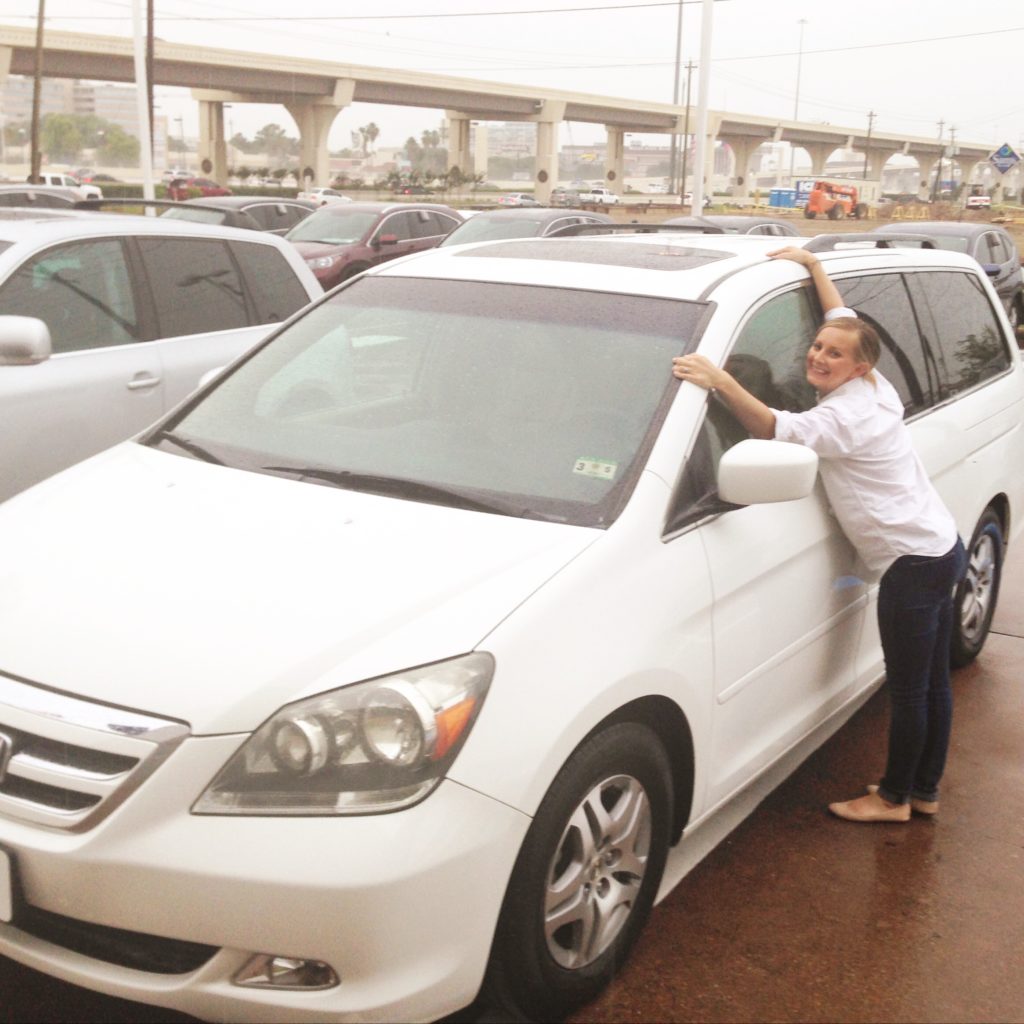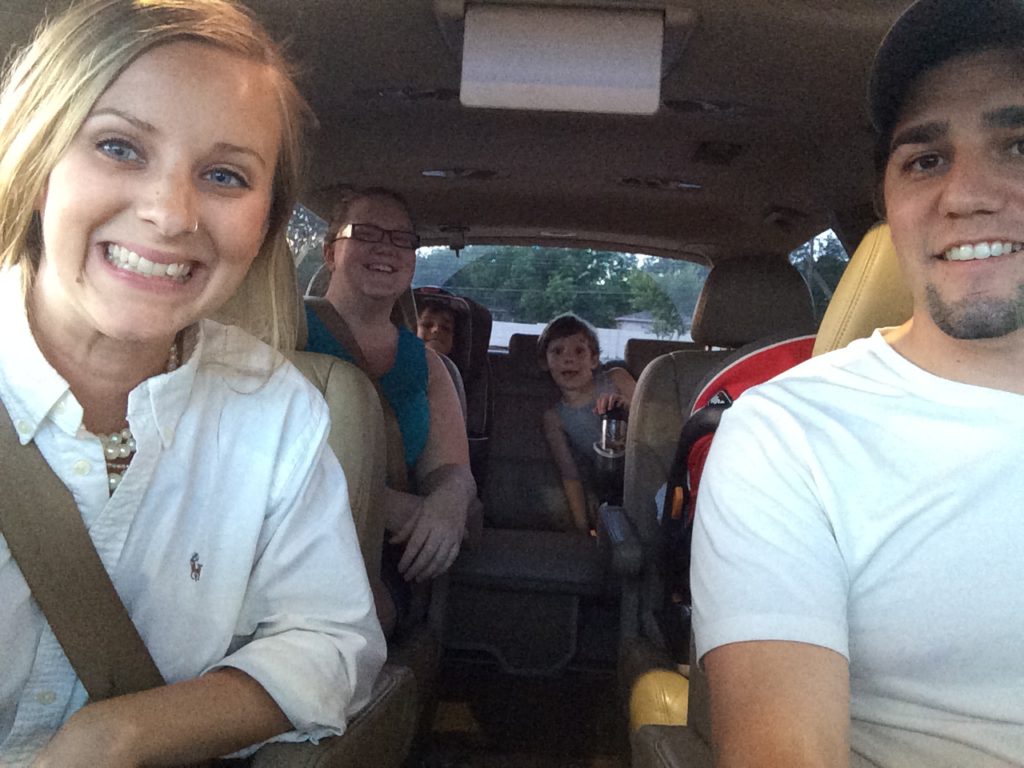 It was a family victory.  We had all been praying that van in, we all knew what a miracle it was.  Our kids got to be a part and see God do this amazing thing for them!  The next morning, while I was making breakfast I couldn't find Shepherd.  I finally found him in the garage, and he said, "Hi Mom, I was just hugging our van!"
Our lives have not been neat and pretty, or manageable, or predictable, or anything close to what I would I thought they would be.  And it took me a while to let go of the image I had in my head of the pretty little life, tied up into a nice little pink bow that I thought I was going to have.  But we have seen the goodness of the Lord in the land of the living.  And we will never doubt that He is our Provider ever again.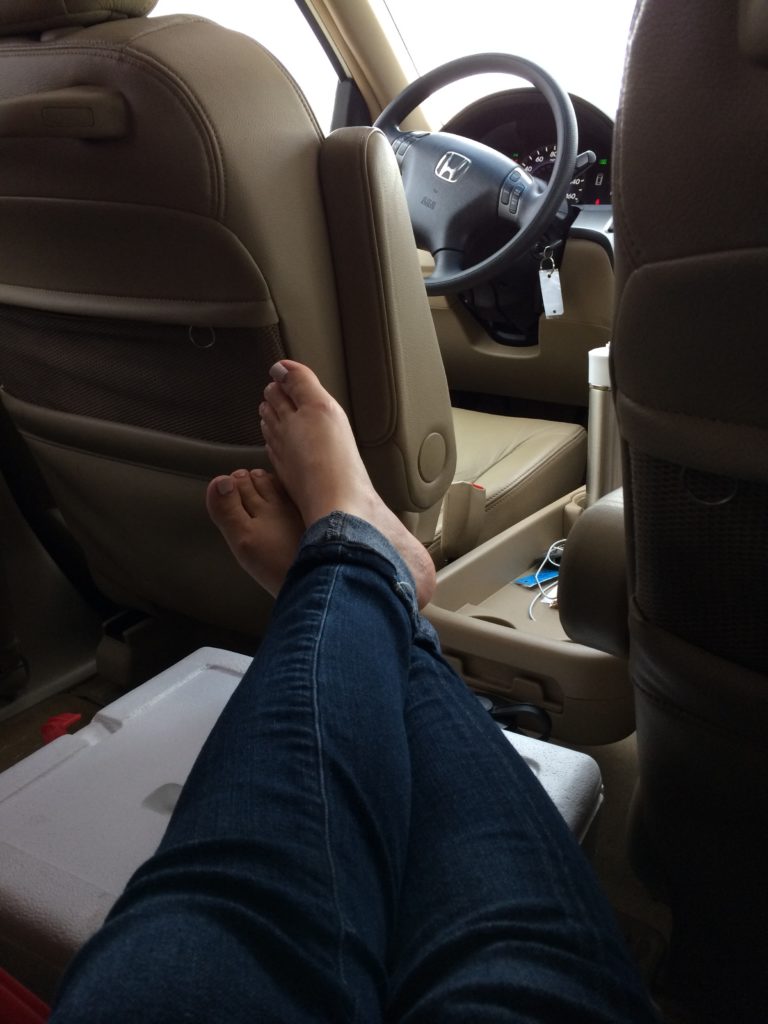 SaveSave
SaveSave
SaveSave
Related posts: