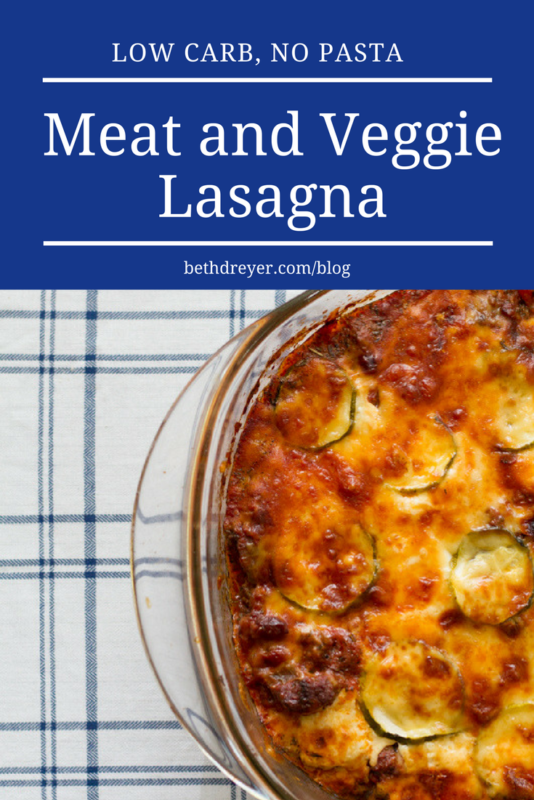 Ya'll this lasagna is legit.  In our family we actually enjoy this more than traditional lasagna, so it doesn't even feel like a 'substitute' recipe.  And can I just talk about meals that have proteins and veggies all in one place?  Then I don't have to make multiple things.  Praise.  I recently brought this lasagna to a friend who had just had a baby.  A few weeks later she messaged me and asked for the recipe, adding that she was pretty skeptical when I brought it over and told her it was full of vegetables, but that she ended up loving it.  I'm just sayin.
My version of this recipe originated from another recipe that I got from a friend who brought it to me when I had a baby.  But over the years I've tweaked it enough that it felt like it would make more sense to write it out the way I make it rather than send a link and explain the things that I change.  So here goes!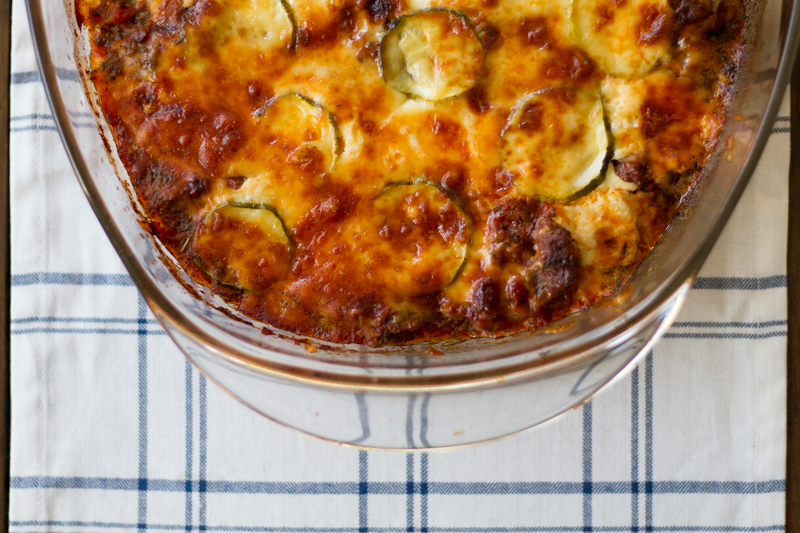 Ingredients:
1 white onion, diced
1 pound of ground beef
1 18oz jar diced tomatoes (I like Jovial)
3 tbsp tomato paste (I like Bionaturae)
3 tbsp Italian seasoning
1 tsp salt
1/2 tsp pepper
2-3 cloves garlic, crushed
1 pound of zucchini and/or yellow squash, sliced into rounds
1/2 cup goat cheese, shredded (raw if possible)
2 cups grass-fed cheddar cheese (I like KerryGold)
2 cups Greek yogurt (I like Kalona Supernatural)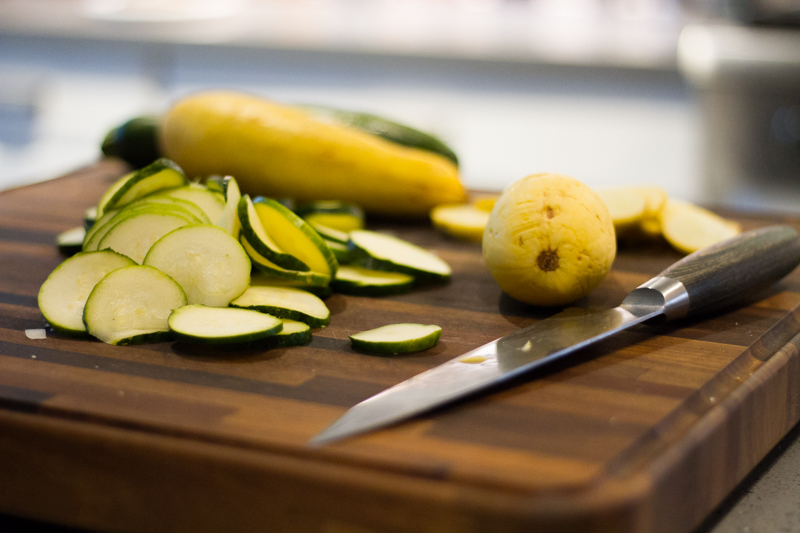 Instructions:
Preheat oven to 375.  Butter a large casserole dish.
In a large skillet melt butter on medium high, and when it bubbles, add onions and sauté until soft.  Add the ground beef, jar of tomatoes, tomato paste, Italian seasoning, salt, pepper, and garlic and cook until beef is browned.  Remove from heat and set aside.  If it's watery, go ahead and drain it a bit.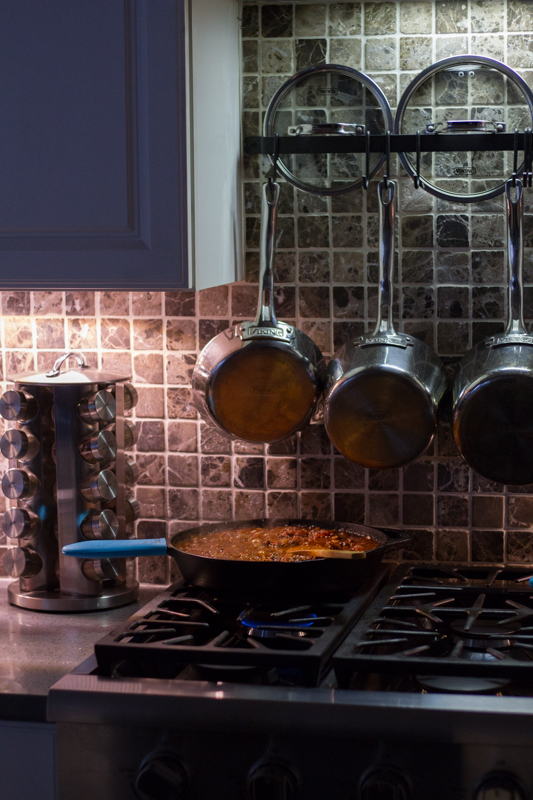 In a separate bowl, combine goat cheese, half of cheddar, and Greek yogurt.  Stir to combine.
Place a layer of zucchini rounds on the bottom of the casserole dish.  Add a layer of the ground beef mixture on top of the zucchini. Dollop the yogurt mixture on top of the zucchinis like so:
Repeat, and top with a layer of zucchini and a generous layer of cheddar.  Don't be shy here.  Crusty cheese on top of a casserole is the essence of life.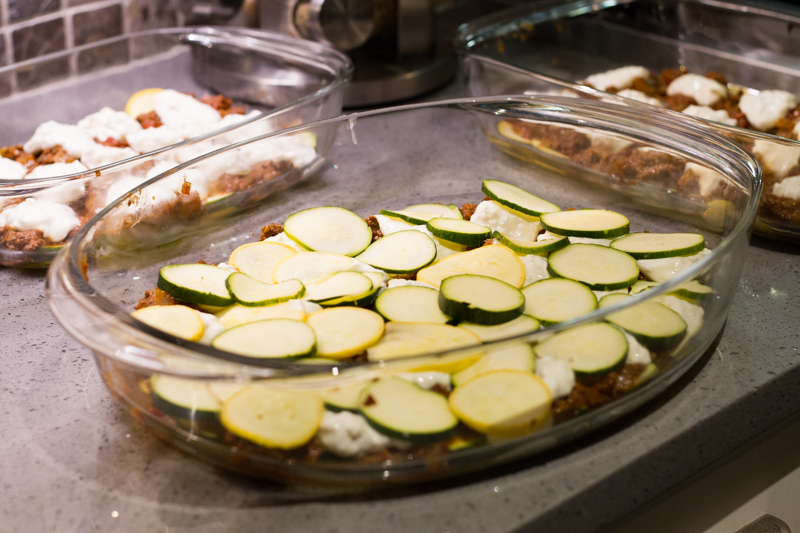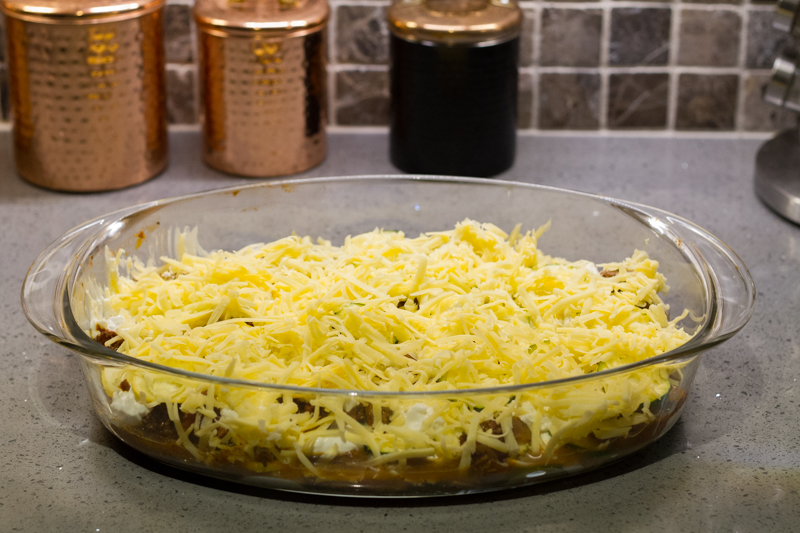 Bake for 45-60 minutes, and cool for a good ten minutes before slicing and serving.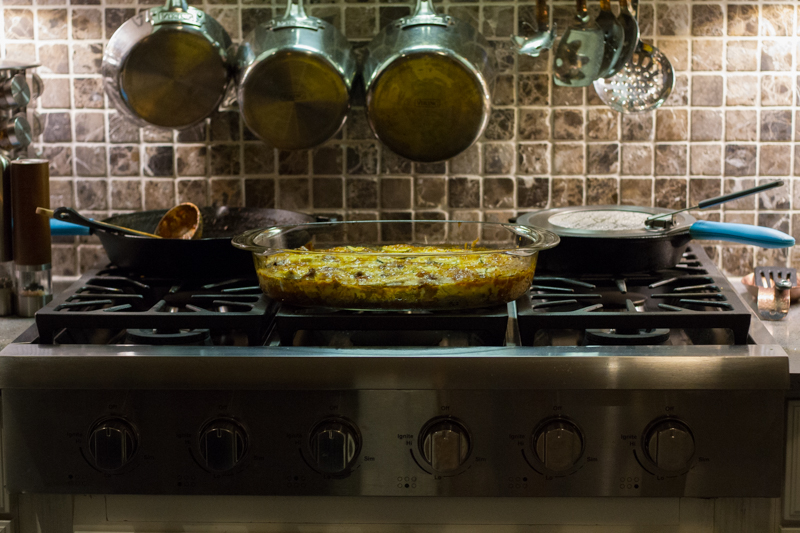 This dish reheats and freezes beautifully!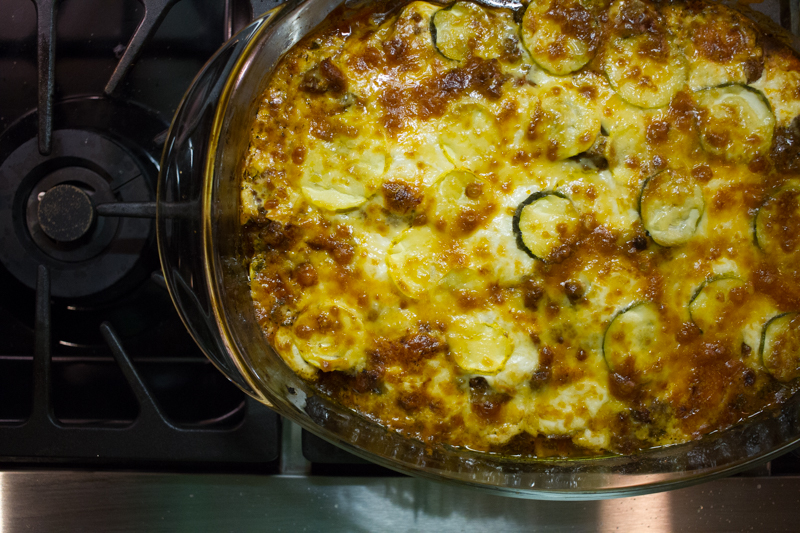 Enjoy!