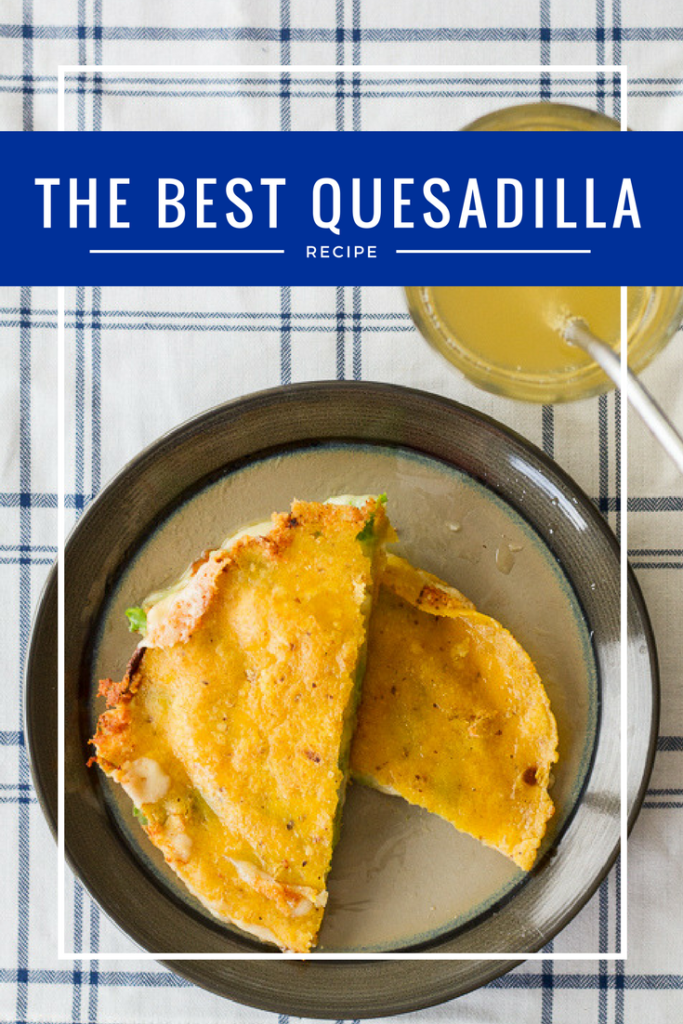 If you come over to my house for lunch, chances are really good that I will make you one of my world famous quesadillas.  If you are dairy-free, it is possible that I will cry and have to think very hard about what to feed you because most of my meals involve dairy.  But that is beside the point.  Real-food dairy lovers, this is the quesadilla recipe that you have been waiting for!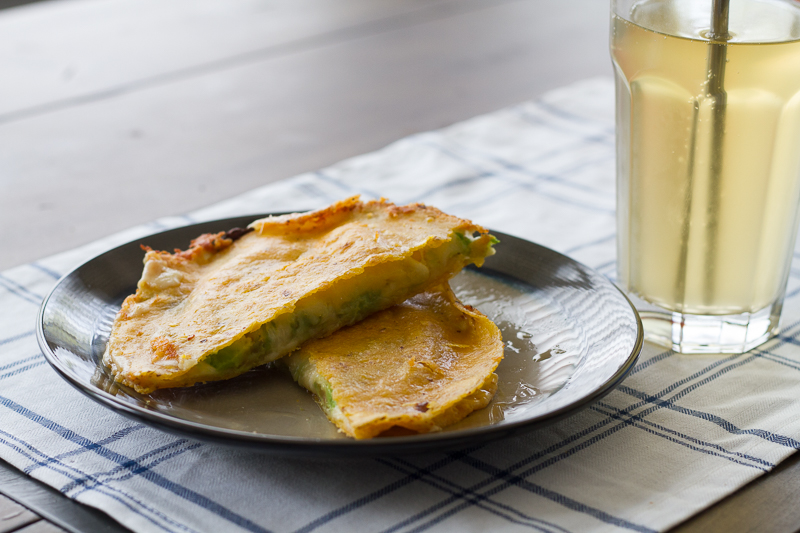 Now, it is of the utmost importance that you use the exact ingredients that I am about to show you.  Only if you live in a part of the world where these brands are unavailable will I budge on this issue.  Don't talk to me about how you can't go to the store that's 20 minutes away to get these ingredients or order them on Amazon.  Get right with Jesus and make it happen.  I'm aggressive because I love you and I want the best quesadilla experience for you.  See exhibit A on why thou shalt not substitute ingredients: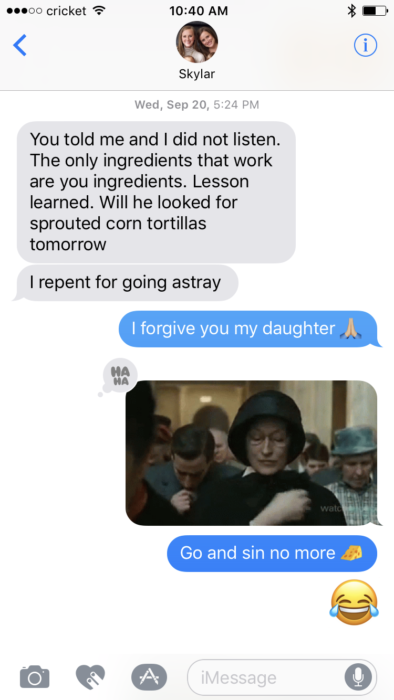 Here are your not to be substituted ingredients:
Ezekiel Sprouted Corn Tortillas
Kalona Supernatural Sour Cream (it is the best sour cream that I've ever put in my mouth y'all)
3/4 Cup Shredded Kerry Gold Dubliner Cheese (which I buy in giant lovely bricks at Costco)
1 Teaspoon Chef Milton's Atlantic Sea Salt with Butter (do not try to use regular garlic salt or powder on me)
1 Teaspoon Real Sea Salt (I would be willing for you to use Himalayan as a substitute here)
1/2 an Avocado (less is ok too)
1 1/2 Tablespoons Coconut oil or lard/tallow for frying.  Yes Lord.
Cast iron frying pan.  You can do this in a non-stick pan but it is not the same friends.
Two spatulas
Pizza cutter
Helpful but not essential: grease splatter shield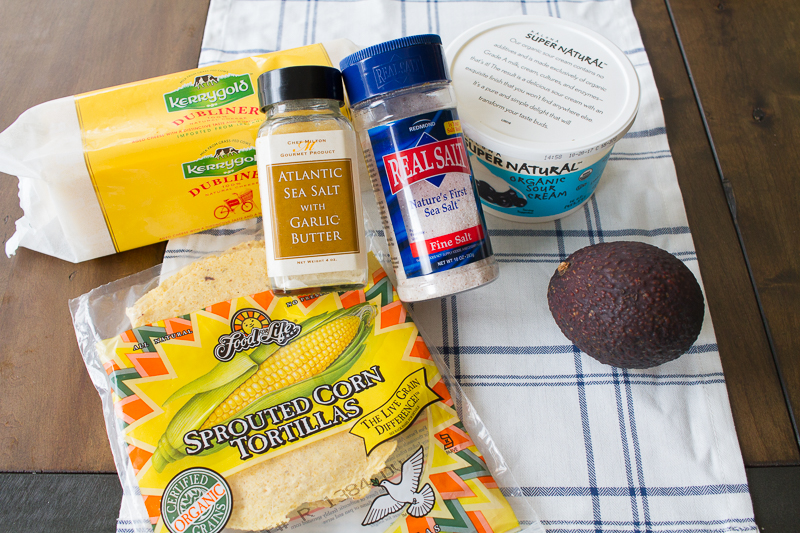 The first step is spreading sour cream on your tortillas.  If you are really working on increasing your fats, go ahead and use some Kerry Gold butter on them before the sour cream.  Bless the Lord oh my Soul.
Next, grate your cheese and place little more than half of it down on one tortilla.  Note* if the tortillas are not the exact same size, place all the cheese etc. in these steps on the smaller one so that the smaller size goes in the pan first.  I use this grater from Ikea, and it is beautiful and lovely.  I fill it about 3/4 of the way with cheese.
Take your avocado and slice it in half lengthwise.  Take one half and place as many slices across the cheese as you want.  The more the merrier I say.
Sprinkle some of both salts on the avocado.  I actually measured this for you, and I use approximately 1 teaspoon of each.  But I just eyeball it.
Cover the avocado with the remaining cheese and top with the other tortilla.
Heat approximately 1.5 tablespoons of coconut oil or tallow in your frying pan on medium to medium high heat.  You want that pan hot, but not smoking.  You may need to reduce the heat as you go and the pan heats up.
Place the quesadilla, smaller side down, if applicable in the frying pan, and let it cook for a few minutes.  You are going to have to learn to feel this one out based on your stove and pan.  I'm going for crispy, but not burnt.  So usually when the bottom tortilla begins to lift a bit off the pan, it's time to flip. 
Use your two spatulas to flip the tortilla, one on the top to keep it together and one on the bottom to flip.
Let that side cook until it is crispy and slightly lifted from the pan as well, remove from the pan, and flop onto your plate.
Let the quesadilla rest and cool for a few minutes before slicing.  You want to give that cheese a chance to re-solidify so that it doesn't all run out when you apply pressure to the tortilla with the pizza cutter.
Slice and enjoy!  If possible, with a nice tall glass of kombucha.
Once you have mastered the basic quesadilla, which is what I eat for lunch probably 75% of the time right now, you can begin adding things to it if you want.  Leftover bacon from breakfast crumbled up is good.  Leftover brisket is amazing.  Leftover chicken with some candied jalapeños is delightful.  Just make sure that whatever you are adding has enough flavor to add to the quesadilla and not make it bland.  Leftover chicken can sometimes add blandness for me, which is why I like to add candied jalapeños.
Dear friend, I give you this delightful recipe.  It takes a bit of time, but it is so good and such a great source of healthy fats for the middle of your day, which is great if you're a mama like me who needs lots of fuel for her day.  Comment below when you've made yourself a quesadilla and let me know how it goes!!!  I can't wait to hear!
SaveSave
SaveSaveSaveSave
SaveSave