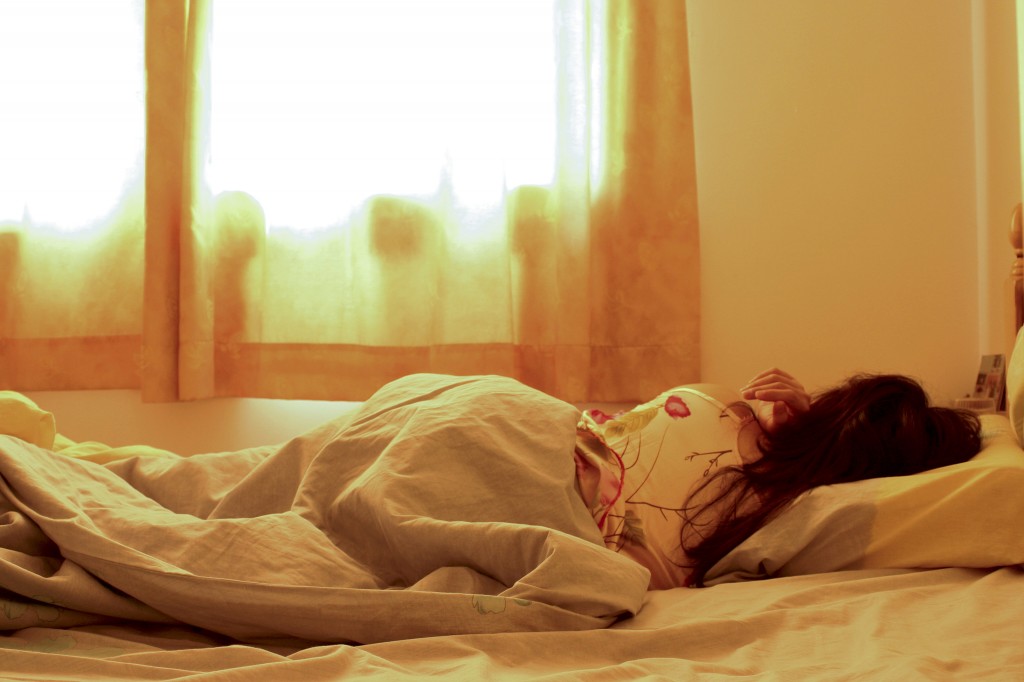 The most obnoxious symptom of adrenal fatigue is just that – fatigue.  Feeling tired and sleepy all.the.time.  Those suffering from mild to moderate adrenal fatigue may feel vaguely tired all the time, but still feel that they have the ability to 'push through.'  They may find that they hit a second wind around 11pm during which they may be able to accomplish more in two hours than they did all day.  Looking back, I believe I was in this level of adrenal fatigue for several years.  This is how almost all mothers of young children feel!  I used to wait until everyone including my husband fell asleep and blissfully then blissfully soak up the alone time, burning the midnight oil editing photos, cleaning the house, or reading a book.  I'd get a surge of energy that felt awesome and would get so much done that it didn't matter that I would drag around like a zombie the next morning until noon.  Or worse!  Sometimes I would stay up really late and still get up and get going at 6 am.  I had no idea what adrenal fatigue was at that time, or that I was feeding it in my body.
Once I got into full blown severe adrenal fatigue however, there was no longer any 'pushing through.'  All of a sudden I could only scrape myself out of bed for a few hours at a time.  I would wake up, get my son out the door to school and then drape myself across the couch while my little guy watched tv all morning.  I counted the hours until it was his nap time and then we'd both sleep for two hours until it was time to do school pick up.  I would then count the hours until my husband came home because I was tired and extremely irritable.  Occasionally around 6:00 in the evening I would feel awake for the first time all day.  By 8:30 though, I was already feeling tired again and most nights I would be in bed by 9:30 or 10:00.  This went on for months.  There was a brief period where although I was spending most of my time thinking about when I could go back to sleep, I couldn't actually fall asleep!!
If you are experiencing the symptoms in the above paragraph, please seek professional help with a natural health practitioner like a naturopath or a chiropractor.  They will help you with the supplements that will best serve you.  Some of the traditional supplements for sleep and relaxation are Gabba, Melatonin, 5-HTP and L-Tryptophan.  I took different combinations of those for a while and am still taking L-Tryptophan.  Again, with adrenal fatigue, your hormones are all kinds of messed up and out of balance.  If you are using caffeine to keep you going, now is the time to stop.  You need to be able to hear what your body is telling you, and caffeine is very disruptive to the hormones of those with adrenal fatigue.  For more on that, read this article.  Sleep is so incredibly healing for the body!  This is not the time to push through friend.  Your body is trying to tell you something and its time to listen!  If you are sleepy in the afternoon and you can do so, take a nap.  If not, at the very least, slow down and take a break for a walk or some deep breathing.  If you are ready for bed when you put the kids down, go to bed.  There will be years and years of alone time ahead of you, and years and years to have a spotless house, don't worry.  Get the sleep you need now.  It's like when you had those sweet babies and everyone told you to sleep when the baby sleeps.  Did you do that then?  Me neither, but we should have.  Pretend you just had a baby, and when your kids are napping or in bed for the night, you go down too.  It's just a season!
The frustrating thing about being disciplined enough to get 10-12 hours of sleep in a day is that it may take weeks or even months before this actually makes you feel better.  You may get frustrated if after a few days of this you don't see any changes.  Please do not use this as an excuse to give up and go back to burning the midnight oil!  I think it's hard to realize that we are not teenagers who just stayed out late one night and need to sleep until noon the next day to be all better.  If you have adrenal fatigue, you most likely did not get it overnight.  You have incurred perhaps years of 'sleep debt' (see Tired of Being Tired) and in a sense, you now need to pay it back.  It took months before I started seeing a major difference in my energy levels, and to this day I still go to bed around 10:30, don't get out of bed until 7:30 and nap at least once or twice a week.  My husband gets up with the kids, makes breakfast, packs Shep's lunch and I come out right as it's time to take him to school.
Most of the resources I've found suggest that if at all possible go to bed before 11pm and do not get out of bed until 7:30, and if your schedule allows it, stay in bed until 9.  Now I can't stay in bed until 9, but I did notice a big difference in my morning energy levels when I started staying in bed until 7:30.  There is a rise in cortisol levels that happens around 7:30-8:00 in the morning.  If you can wait to get out of bed until it happens, it is likely that you will feel better for the rest of the day than if you wake up before it happens.  I know that was the case for me.  Again, this series is more of a girlfriend's guide to adrenal fatigue, but for more scientific information you can read this article.
The bottom line that I will hit over and over again is this.  We cannot treat our bodies flippantly.  We need to listen to what our bodies are trying to tell us and do our best to steward our health and our peace.  If you need a season of sleeping it off (hehe) then take it!  If you are worried that your husband or mother or best friend will judge you, sit down and talk with them about what's going on and why you feel that this is what you need to do to take care of yourself.  It may be hard if someone close to you doesn't want to be supportive, but honestly – ten years from now what are you going to wish you had done?  Slow down and let your body catch up.