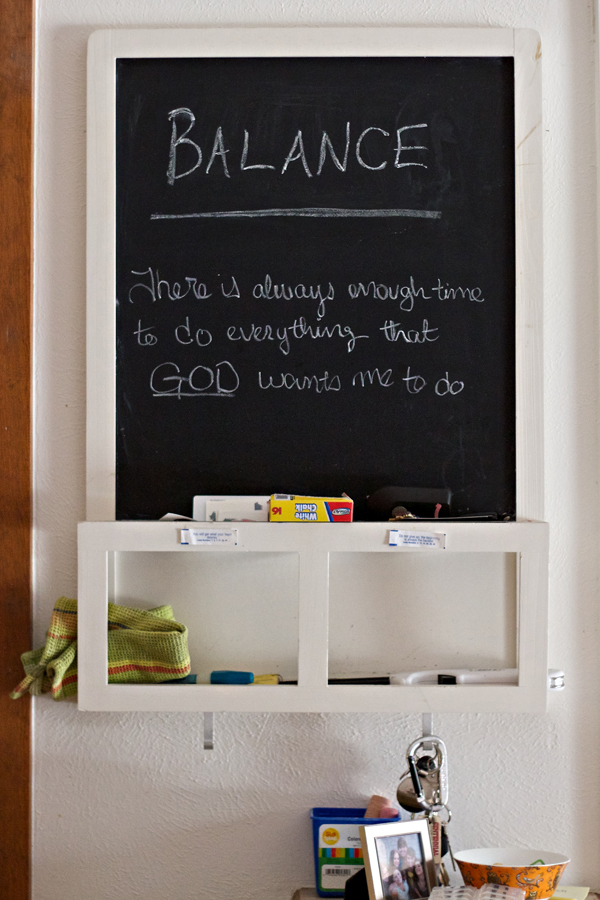 This past year I was having a conversation with a working-mom friend of mine who always seems balanced and calm.  I asked her how she balances work and motherhood, because usually the words 'calm' and 'working mom' don't go together in the same sentence (let's be honest).  Her answer has stuck with me, but for it's profundity and simplicity.  She told me, "I say no.  I know that I am responsible to guard my own peace.  So I'm very selective about what I say yes to, because if I said yes to everything, we'd never have time together as a family.  Honestly we don't do much outside of work, school and church on Sundays.  When we can, we do other things and when we can't, we say no.  And I don't feel guilty about it."  On the outside I smiled and nodded, and on the inside I was thinking, "AND SHE DOESN'T FEEL GUILTY?!  TELL ME MORE!!!"
For some reason our society (especially our mommy society) can be very motivated by guilt.  There's nothing worse than mommy-guilt.  It's horrible!  We tend to feel like we have to sacrifice everything about ourselves in order to do what's best for our children or we are wallowing in guilt for how we are letting them down.  We assume that we are going to be harried and rushed and wound as tight as we can go until our kids leave home.  Many times people with adrenal fatigue are the workaholics, the guilt-motivated mommies and the overachievers who are constantly pushing themselves just a little bit harder or adding just a little bit more to their already overloaded plates.  I never really thought of myself as having a big problem in this area until I had a revelation sometime in November.
After I had cancelled my fall mini-sessions, one of my dear friends and clients asked if I would do a private mini-session event for her and some friends that she would organize last minute.  She was offering to pay more than my original price and basically put the whole thing together herself.  I was flattered!  However, I had just cancelled mini-sessions in order to have some rest so I felt a tug of hesitancy.  When I prayed, God showed me that I really could not comfortably squeeze it into my schedule without overworking myself.  Since I had committed to a season of rest, overworking was not an option.  So I said no.  It was hard!  Later that month as I was going through all of the sessions, Christmas cards, and Christmas orders that come with the 4th quarter in photography business, I stopped and realized that I wasn't overwhelmed.  It was the first time I hadn't felt overwhelmed in November since probably 2007.  And you know what?  My first reaction was to feel guilty that I hadn't accepted my client's private mini-session request.  If I wasn't feeling overwhelmed, then I wasn't doing enough!  The light bulb came on for me in that moment.  What was wrong with me that I thought I had to be overwhelmed to feel like I was doing 'enough?'  Hello!!
The light bulb came on for me in that moment.  What was wrong with me that I thought I had to be overwhelmed to feel like I was doing 'enough?'  Hello!!

Friends, we need to get out of this workaholism that our culture has thrust upon us.  It is not what God intended for us.  Sure, there are seasons where we will be super busy.  But we are human beings, not human doings.  We need to schedule time to just be into our lives.  And my friend was right when she said that we are responsible to guard our own peace.  Other people are not going to guard our peace for us!  If you say 'yes' to everything that people ask of you, or everything that you have the skill to do, or everything that you want to do, you will get burned out.  We need to ask God what our priorities are for each season of our lives and say 'yes' to the things that line up with those priorities and 'no' to the things that don't.  Even when it is going to make someone we care about very upset.  Kris Vallotton in his message called Stewarding God's Grace says, "There is always enough time for everything God has called me to do."  What this implies is that there is not enough time to do everything that people want me to do and that we need to know the difference.  If you are having trouble saying 'no' you really need to listen to that message!
When we are living on coffee and adrenaline to keep ourselves going, saying things like, "I'll sleep when I'm dead," our adrenal glands (see the connection between adrenal glands and adrenaline?) get worn out.  If we keep going and pushing ourselves when our adrenal glands are depleted, gradually our bodies really begin to decline in all kinds of terrible ways.  Our bodies are not meant to constantly be in the 'fight or flight' state of being which we so often demand that they maintain.  Many times I explain adrenal fatigue as the physical manifestation of emotional burnout.  How do we get burned out?  By doing too much!  How do you avoid burn out?  By saying no when it's time to say no!  Last fall when I started saying 'no' was hard!  Sometimes it was very hard!  Sometimes people I love were disappointed and even offended.  I don't like that!!!  I want everyone to love me and think I'm awesome and instinctively understand my limitations.  But you know what?  Once I started saying 'no' my body finally got a chance to heal so that I could be more available to say 'yes' enjoyably!