Cleaning!  Without!  Chemicals!  Ashley makes fun of me nonstop for my refusal to use chemical cleaning products.  Even when I'm at her house and cleaning up the dishes, I root around in her pantry for things like vinegar and baking soda.  It's ok, one of these days she'll come around.  Probably because I won't stop harassing her…
About five years ago, I got rid of all of my cleaning products in one fell swoop after hearing Dr. Oz talk on the Oprah show about how chock-full of toxic chemicals they are.  Not once had it ever occurred to me that just because something was in a store it didn't mean it was safe.  I was about to have a baby and I decided that the arrival of a new baby was a great time to stop using chemicals.
Have you ever noticed that many of the products under your sink right now carry warnings saying things like, "Not safe for humans and animals," or "In case of contact with skin, wash with water and contact a doctor."  I had never noticed that!  And I was very surprised when I discovered it.  Even cleaners marketed as 'green' may contain harmful ingredients because the market for 'green cleaning' largely unregulated.
Organicconsumers.org says –
When consumers buy commercial cleaning products, we expect them to do one thing: clean! We use a wide array of scents, soaps, detergents, bleaching agents, softeners, scourers, polishes, and specialized cleaners for bathrooms, glass, drains, and ovens to keep our homes sparkling and sweet-smelling. But while the chemicals in cleaners foam, bleach, and disinfect to make our dishes, bathtubs and countertops gleaming and germ-free, many also contribute to indoor air pollution, are poisonous if ingested, and can be harmful if inhaled or touched. In fact, some cleaners are among the most toxic products found in the home. In 2000, cleaning products were responsible for nearly 10% of all toxic exposures reported to U.S. Poison Control Centers, accounting for 206,636 calls. Of these, 120,434 exposures involved children under six, who can swallow or spill cleaners stored or left open inside the home.

Cleaning ingredients vary in the type of health hazard they pose. Some cause acute, or immediate, hazards such as skin or respiratory irritation, watery eyes, or chemical burns, while others are associated with chronic, or long-term, effects such as cancer. The most acutely dangerous cleaning products are corrosive drain cleaners, oven cleaners, and acidic toilet bowl cleaners, according to Philip Dickey of the Washington Toxics Coalition.
I think that although many people are aware that their cleaning products are dangerous if ingested, that the fumes are quite potent, and that they should keep their kids away from them, not many people stop and question whether this stuff should be used on their countertops, dishes, sinks and bathtubs.  It's on the shelves so it must be ok right?  Wrong.  Furthermore, I think that most people assume that using the standard cleaning products from the store are the only way their homes will actually be clean.  Many people don't believe that their homes will be as clean or truly disinfected if they use the items our grandmothers used like vinegar, lemon juice and baking soda.  The truth is that you can clean just as effectively with natural products!  I will stop right here and warn you that vinegar is a key player to non-toxic cleaning.  If you want to be serious about natural cleaning it's a good idea to train yourself to associate the smell of vinegar with cleaning and not with Easter egg dying 🙂
Below I've listed some easy, homemade cleaning products and how to use them around the house.  I am by no means an expert, and I'm sure there are many things in my home and daily life that are toxic that I don't even realize.  I'm doing the best I can to get rid of the chemicals in our lives one step at a time.  Here's how I've been cleaning for the past several years.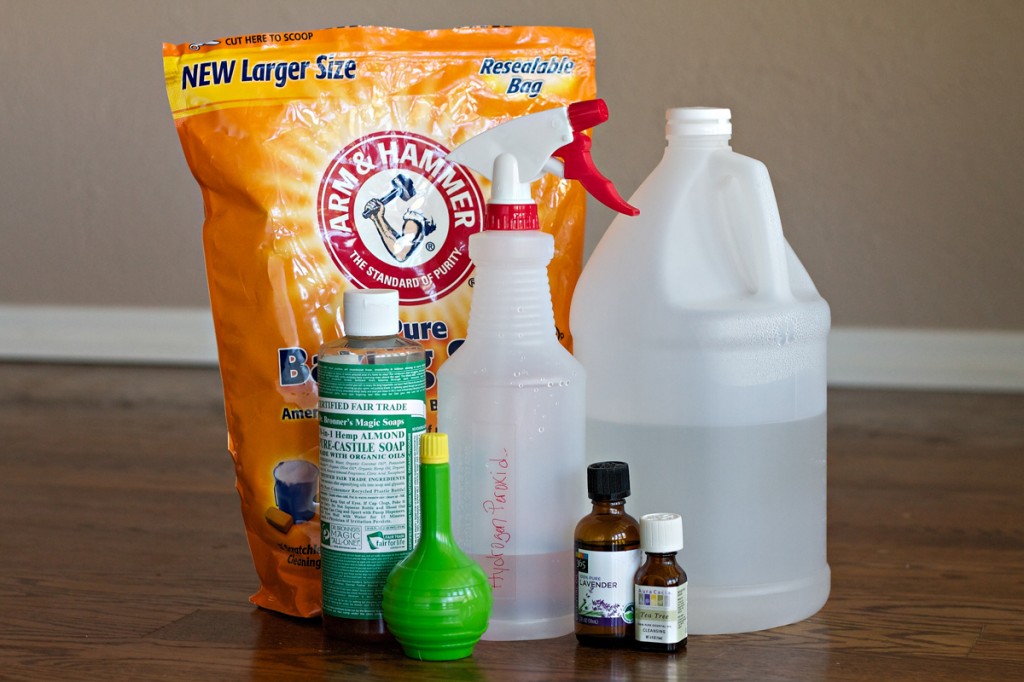 The Key Players:
Baking Soda (I bought this ginormous bag in the picture at Costco)
Vinegar
Lemon or Lime Juice (I buy prepackaged bottles of lemon or lime juice for cleaning)
Hydrogen Peroxide
Lavender Oil
Tea Tree Oil
Castille Soap (like Dr. Bronners)
Olive Oil (not pictured)
Kitchen:
To clean counter tops spray the counter first with undiluted vinegar and next with undiluted hydrogen peroxide.  The combination of these two things when sprayed right after each other (store them in separate spray bottles) will disinfect and even kill salmonella!  If there is something really crusted on like burned spaghetti sauce on the stove, pour a couple of drops of lemon juice on it for a few minutes and it will come right off!
To make cleaning pots and pans easy (I'm assuming that you're using stainless steel pans and not non-stick which is toxic) pour a tablespoon or so of baking soda into the pan and pour steaming hot water into it.  Let sit for 5-15 minutes and everything will be loosened and clean right up!
For my dishes, I use Seventh Generation dish soap and dishwashing detergent.
I have a white porcelain sink, which I assume is original to the house.  So I have this 30 year old sink that is quite porous and stains in about two seconds if anything like tea or coffee is left in it.  It also gets really marked up from the pots and pans.  I use soap and baking soda on a sponge to scrub it really well, rinse it down, dry it off and then spray hydrogen peroxide in it and let sit over night.  In the morning, my sink is white and shiny.
Bathroom:
To clean the bathtub mix a solution of 1/4 cup baking soda, a few drops of liquid castille soap, and 5-10 drops lavender oil and or tea tree oil.  Mix with enough water to form a paste and use to scrub with a sponge.  Rinse with water and rest assured that if you don't rinse it all everything you just used is natural and  and safe to be absorbed into your baby's skin.  Alternatively, you could just sprinkle baking soda all over the bathtub and pour a bit of vinegar over it.  Allow it to fizz and use the sponge to scrub the bathtub.
I just pour a couple of drops of castille soap into the toilet or on the brush and scrub it down.  Works great!
Toilet seats and counter tops can be cleaned with a mixture of 1/3 vinegar, 2/3 water and several drops of lemon juice or lavender oil or the same straight vinegar and straight hydrogen peroxide sprayed one after the other that I talked about for the kitchen.
Floors:
For a good mopping solution fill the sink with water and pour in 8oz of vinegar and a tablespoon or so of lemon juice.  Again if something is really crusted on the floor, just drip some lemon juice on it and let it sit for a minute or two before mopping as usual.  I just mop my floors using this solution and let them dry.
Wood Surfaces and Floors:
For wood tables or furniture, pour some olive oil on a cloth and then squirt some lemon juice on top of it.  Rub down the wood surface with the cloth.  It will condition the wood beautifully just like your favorite wood cleaner but without the chemical residue and polluted air.  After about 25 minutes, go back over the wood with a dry cloth to absorb any excess oil.
For my wood floors I pour a cup of vinegar and a tablespoon or so of olive oil into the sink and then use a dry mop with a microfiber cloth.  Same as above, wait 25 minutes and go back over with a dry cloth on the mop to soak up excess oil.  I'm new to wood floors so I'm not an expert, but I did read several places that it's not a good idea to use water on your wood floors because the wood will expand.  I also have this mopping solution by Method.  They list all of their ingredients and what they do online, but it's a little more synthetic that I like.

Laundry:
Until recently I've been using various 'green' or dye-free laundry detergents and I've gone off and on with fabric softener (it just smells so good!!).  But I'm about to make this homemade laundry detergent using scented Castille soap, Borax and washing soda.
Here are some links to other natural cleaning resources –
Four Homemade Cleaners by Macheesmo.
Organic Consumers article called How Toxic Are Your Household Cleaning Supplies (quoted above).  Includes an exhaustive list of safe cleaning product brands.
Articles on About.com on housekeeping uses for baking soda.
Green Cleaning: Natural Cleaning Products by Whole Living
How Safe Are Green Cleaning Products by Dr. Mercola.
Cleaning Problems Solved by Whole Living addresses some common frustrations people experience when cleaning with natural ingredients.
DIY Bath, Beauty, and Cleaning Pinterest board.  I pin various non-toxic DIY cleaning products, and bath products here as I find them.
Do you have any natural cleaning tips to share?  I'd love to hear them!