Almost every time I try to snuggle my baby to sleep, it doesn't work out.  I have friends who rock their babies to sleep for every nap and bedtime and they love it, but I have always known that I do not possess the patience (or ability to sit still!) required for such a task.  So we trained our children to fall asleep by themselves from a very early age.  Most of the time, this is wonderful for me!  I take them to their beds, lay them down, give them a kiss, walk out the door and they go to sleep like little angels.  But occasionally I really have the urge to just snuggle and rock them while they sleep.
I'll sit down in my comfy chair, hold Rhett close and wrap his blankie around him.  Usually he's looking at me like, "What are we doing here?" and tries to wiggle away.  But if we make it past that stage to where he actually begins to doze it never lasts for more than about 15 minutes.  Inevitably something happens to thwart my plan.  An appendage of mine falls asleep.  I start getting super uncomfortable and try to move.  He wakes up and starts wailing.  Just as we've gotten settled in I'll decide that there's no way I can possibly sit completely still without my phone, a movie, a book etc.  There is also no way I can readjust myself so that I could drift off to sleep as well.  I decide to stand up just a bit so I can reach whatever's closest to me and he wakes up and starts wailing.  There's really no use in even trying to let him nap in my bed with me.  He's a boy for crying out loud – he bounces on the bed, jumps on my stomach, wriggles down the side of the bed, gets into my jewelry and before you know it you've got a cranky mommy and a messy room.
Basically I am snuggle nap challenged.
Before our vacation, I decided that one of my goals for the trip was to have a nap with Rhett in a hammock on the beach.  That didn't happen.  But what did happen was this.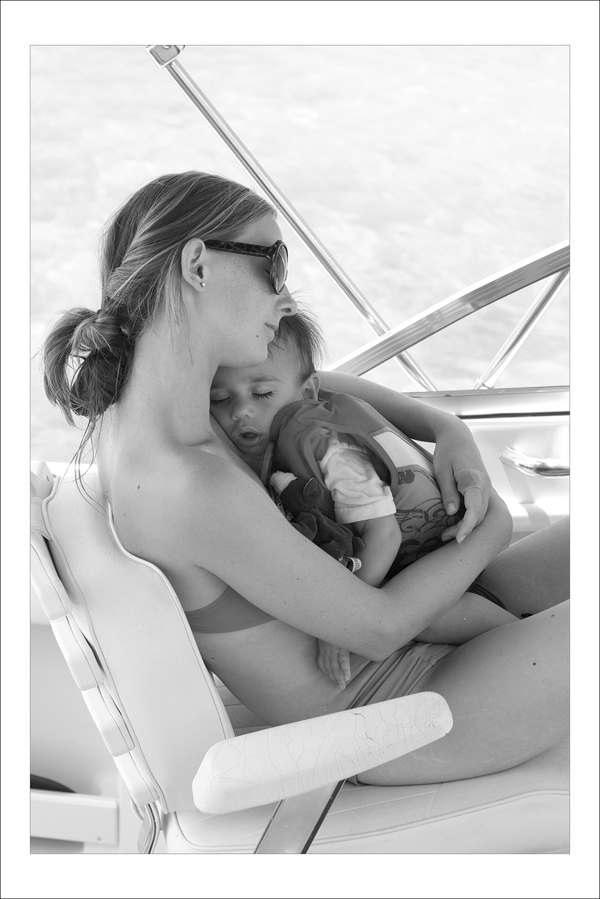 On the way home from swimming with the sharks, I was holding him in my lap on the boat and he fell asleep.  As we glided across the water, I snuggled my baby and savored the moment.  It was beautiful.  There really is nothing quite like snuggling a sleeping baby.  When we arrived back at our dock, everyone else got out and I decided to enjoy this snuggle nap as long as possible.  And then of course I was hit with an overwhelming need to pee.  Then my leg started aching/falling asleep.  I decided that I could hold it for a while.  Then my leg really started to hurt.  I held on as long as I could.  In about 7 minutes I was completely miserable.  I felt like my bladder was about to burst and my leg was going to fall off.  I had to get a new sitting position.  Hoping against hope that he was deeply asleep, I adjusted my position ever so slightly.  He woke with a start and I gave up.  I was really about to pee my pants anyway.