Look out!  DIY projects are sprouting up all over my house and coming to a blog near you.  I hope you like before and afters because I plan on posting lots of them.  Hopefully many of them can be as quick and easy as this one!
I discovered Pinterest while we were in the process of looking for houses.  Are you on Pinterest?  What?  Sorry I missed your answer because I'm too busy being sucked into the vortex of 'pinning.'  Anyway I started scouring the internet for anything and everything pertaining to homes and decorating and stumbled upon drop cloth curtains.  Apparently they're everywhere and were super popular amongst bloggers in about 2009, but I love them so I'm making them sooo 2011.  I was also itching for some throw pillows for the red sofa since it was looking kinda bare and glaring.  That sofa is super fun and of course I love red, but it needed something to kinda tone it down.  SO –
Here is the before.  Don't you love my rug?  I really love my rug.  I got it at Tuesday Morning and it makes me so happy.  In fact it makes me so happy that I kinda want to buy another one just to have on hand for years down the road if my children destroy this one.  But I digress.  Let's all remember the before before internet listing photo –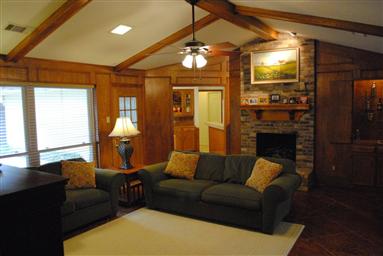 After we'd moved in and painted…  Nice, but bare.  It's time for some sprucing!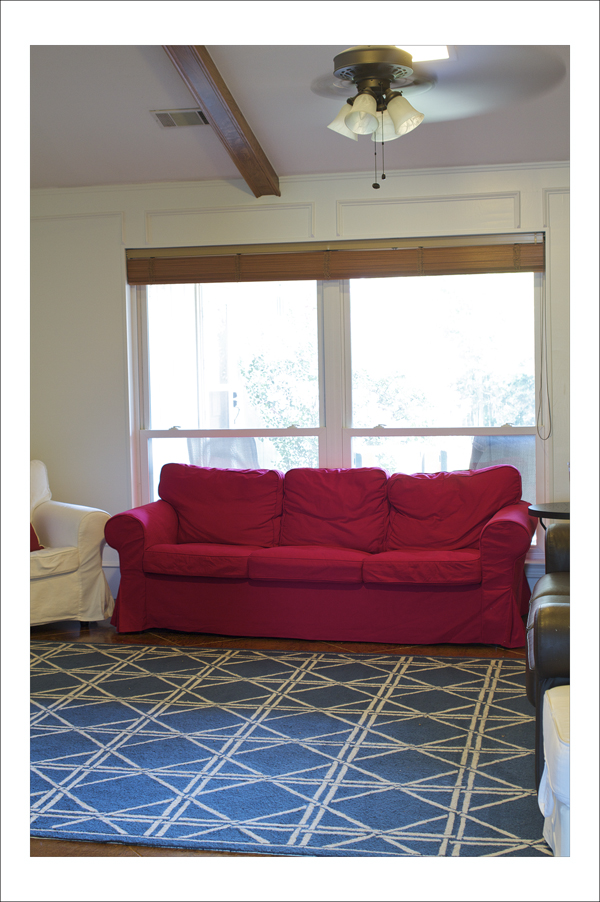 I drug the family to Home Depot to buy drop cloths.  I read somewhere that Lowes drop cloths have seams down the middle and HD ones don't.  There are all kinds of sizes out there.  Mine are 6×9.  Then I bought some curtain clips from Target (along with some throw pillows) and a big ol 84″-120″ curtain rod from Ross.  The hardest part of the whole process had to be ironing the panels after they were washed.  It took foreveeeer.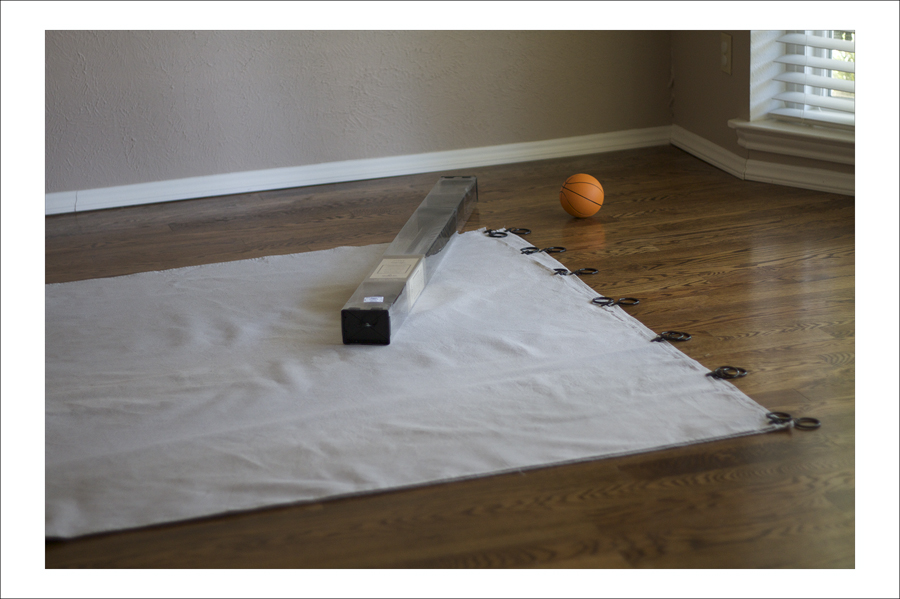 Then we (and by we I mean Jake) hung the curtain rod.  There he his drilling a hole into our beautiful wood paneling.  You kinda have to be committed to something to start making holes in paneling.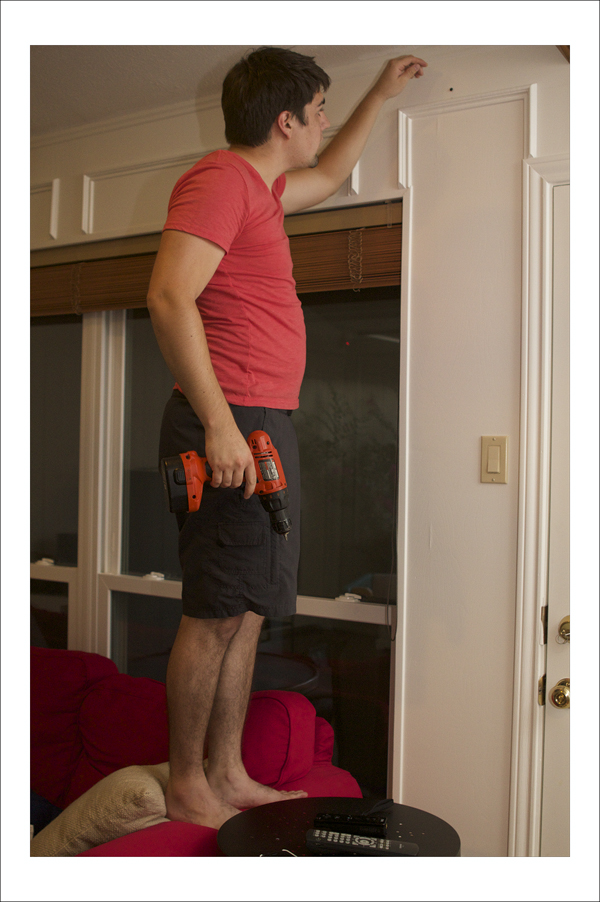 Hanging the rod and the panels.  We had to wait to do this until after the kids went to bed so we didn't have utter chaos ensuing around us.  See those holes in the ceiling on the left?  Those are wires for surround sound!  Someday I'm sure we'll get that set up.  You know so we can have killer sound to go along with our killer square tv on wheels.  You can kinda see the new pillows in this shot too.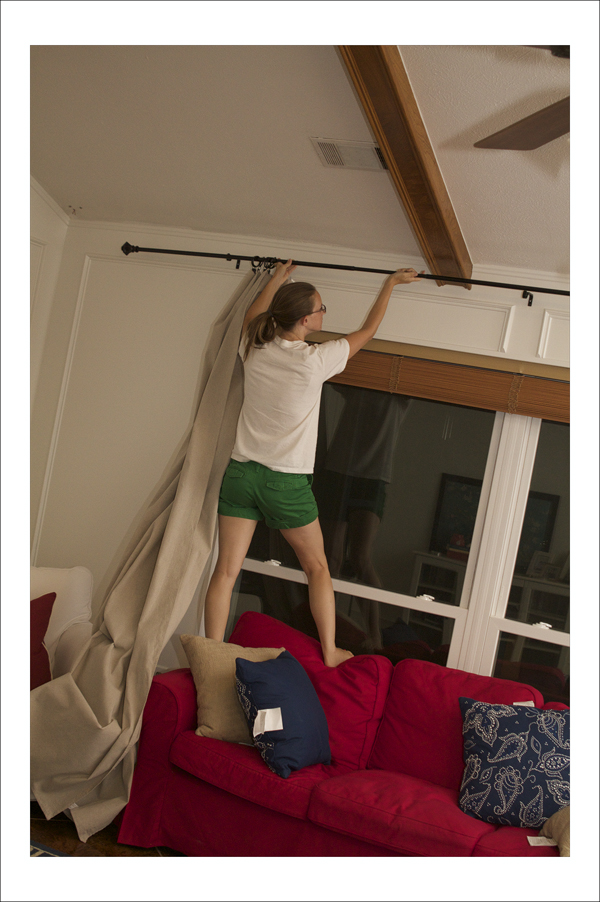 And after!  Don't you love how great the pillows look with my yummy rug?!  *happy dance*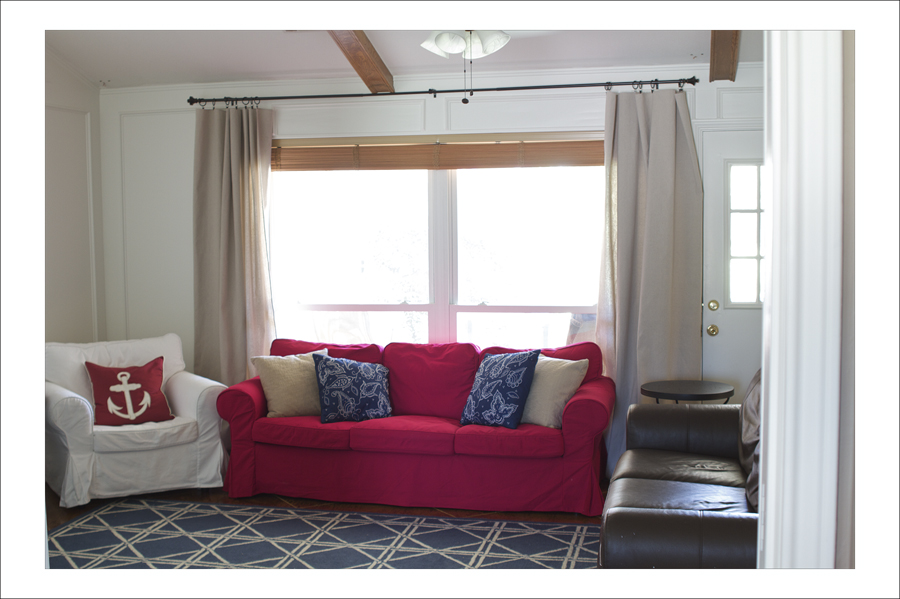 My cloths are actually folded over at the bottom because they are too long.  If you can't hang your rod at 9 feet, you could try this trick by Kimba over at A Soft Place to Land.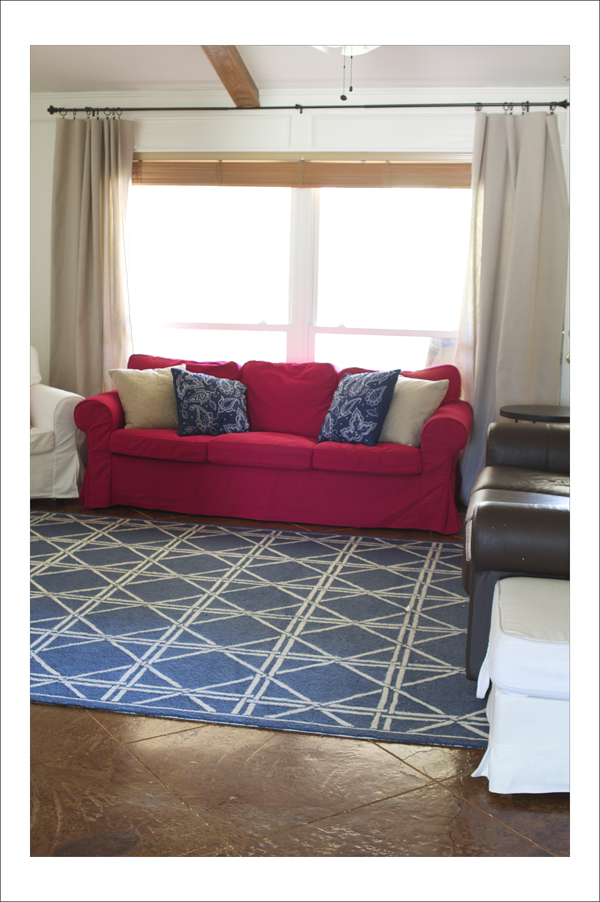 And some detail shots of the pillows and of a drop cloth.  The burlap-y looking pillows are actually really soft – I think they might be woven chenille.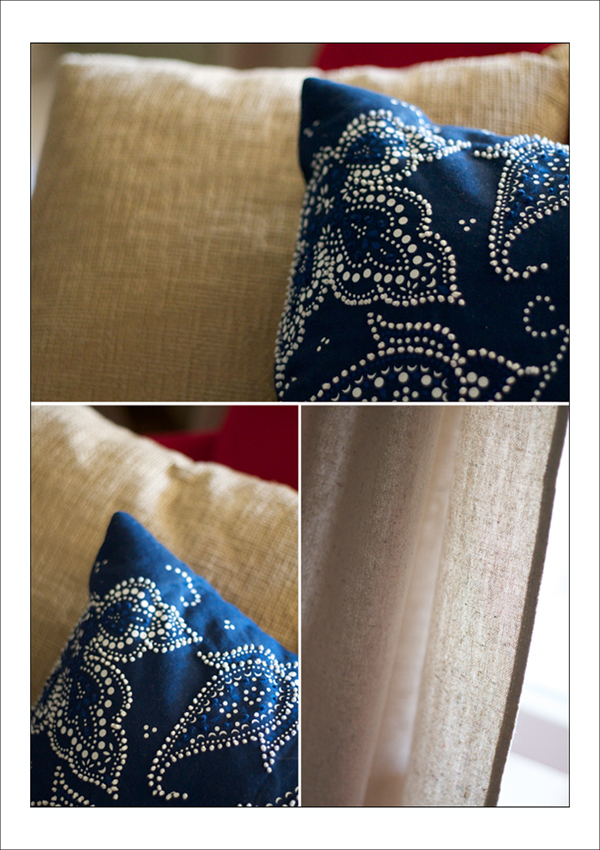 Yay for DIY drop cloth curtains!  I love mine!