Let me just start by telling you that I am a do-it-yourselfer.  I come from a family of do-it-yourselfers.  If it can be done yourself (and even sometimes when it shouldn't) we will do it ourselves.  So of course as a do-it-yourselfer who is a photographer, I'm gonna want to do my own photos!  While I was pregnant with Rhett, I went back and forth trying to decide if I should do my own newborn photography, or if I should have it done by someone else.  When I was pregnant with Shep, we were SO broke, so I did my own maternity photos.  Yes, I set my camera on a tripod and ran my big pregnant self back and forth while the timer was beeping.  I don't really recommend this…  That's why I had Coli take my maternity photos this time.  Ultimately I decided that if there was ever a time to not do something myself it was going to be right after having a baby.  So we arranged for Claire Smith to come to our house the day after we brought Rhett home from the hospital.
I am so glad I did this.
Not only did she do an absolutely amazing job, but there really is no way that I could have done that kind of photography myself after having a c-section.  In case you didn't know, newborn photography is no easy task!
(this and the following are pictures of pictures by Claire Smith)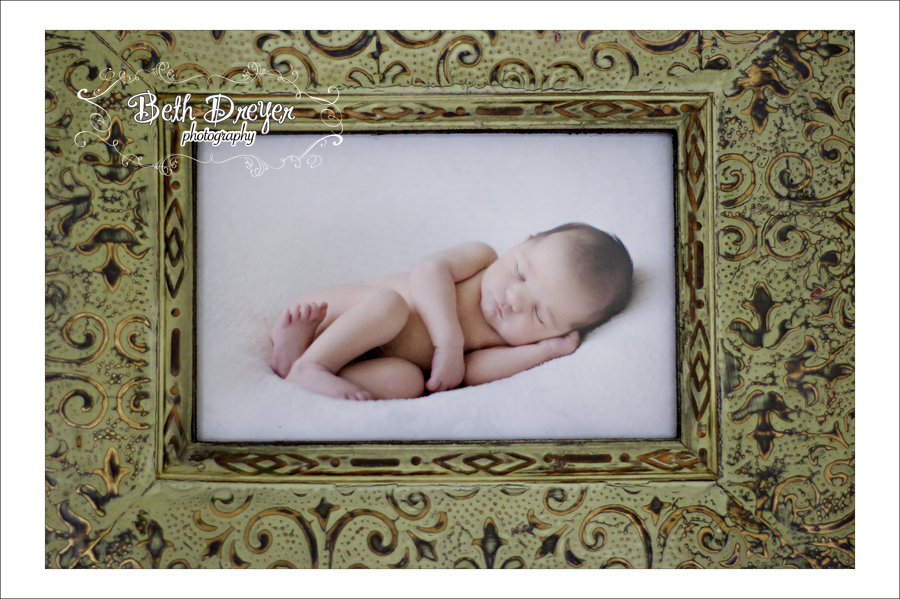 I am so glad I decided not to do this one myself!  I'm so glad I invested in having those sweet precious first moments of us as a family documented by someone else.  It was so nice to just relax and let someone else take over.  Especially since I was exhausted and on painkillers.  Those little bitty newborn baby days are already over and to be honest are already a little faint in my memory since I was recovering from major surgery.  But I will always have these beautiful photos to remember us as a family when we first brought Rhett home.
When I went into my ordering meeting with Claire, I knew that I wanted a large family print and exactly what sizes of various other photos as well.  I want my home to be a gallery of memories.  Twenty years from now, I want someone to walk into my house and see the stories of our lives as they walk through my house, and I'm starting on that goal now.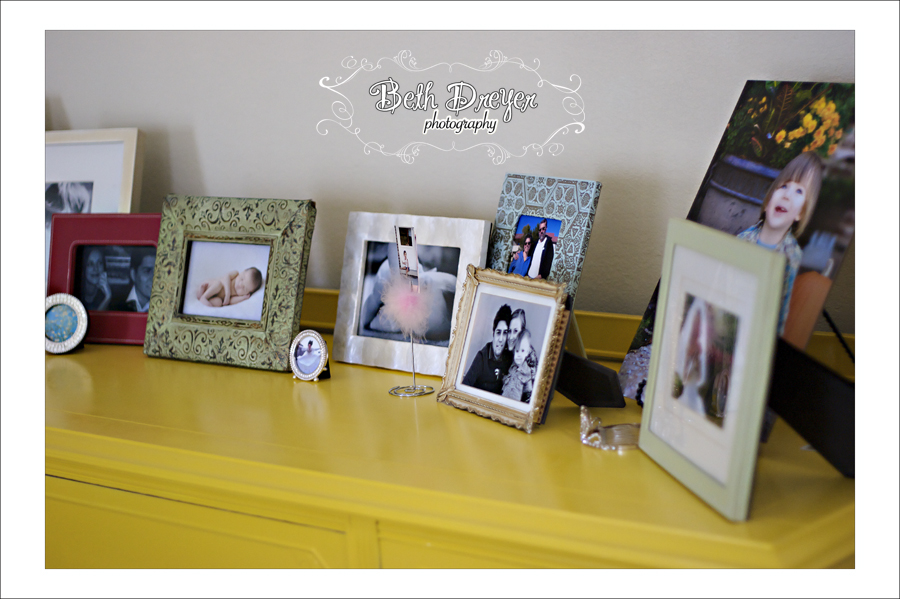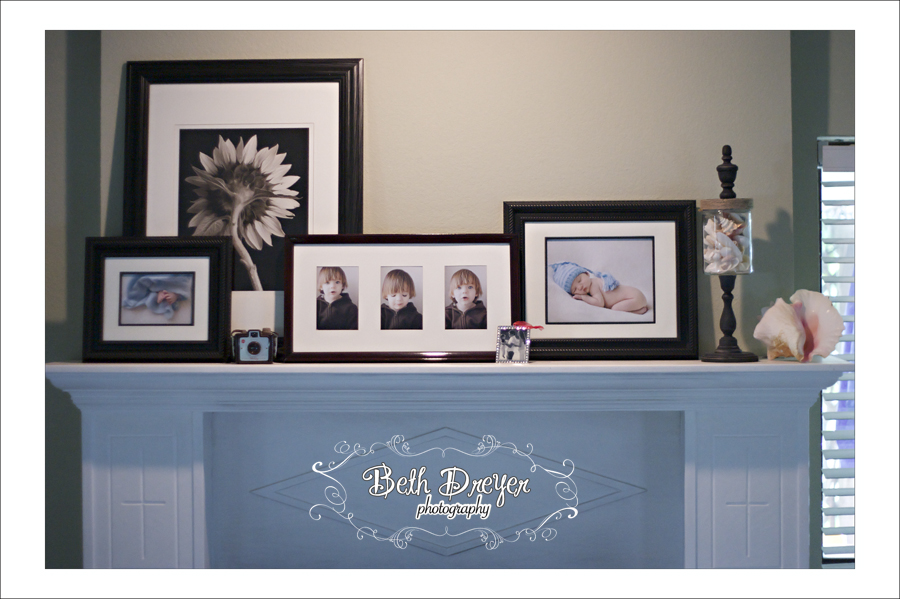 This picture of Rhett's feet is a 5×7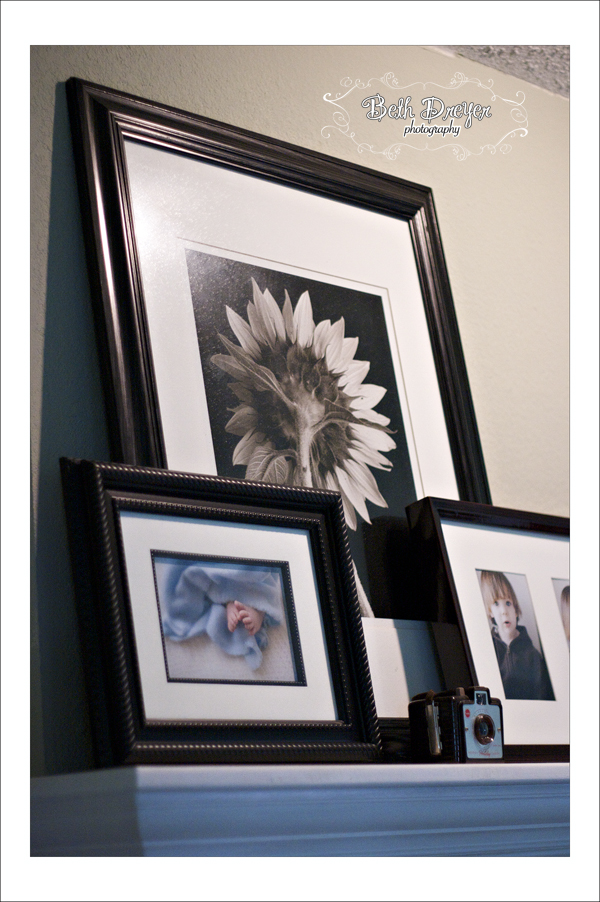 This one is an 8×10.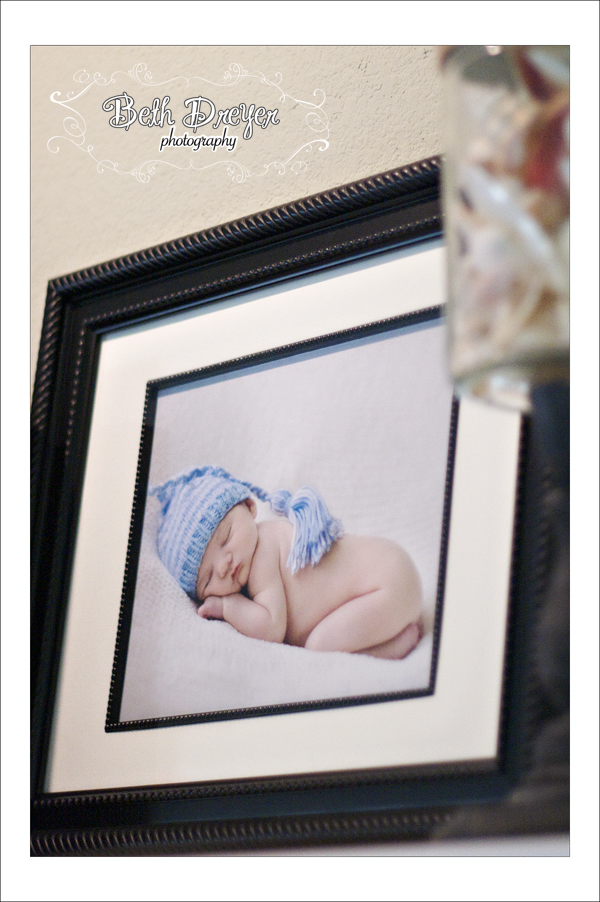 This family photo is going to be such a treasure to me for the rest of my life.  It is a 16×20 print which after being framed is probably about 24×28.  A moment in time frozen in art form on my wall forever.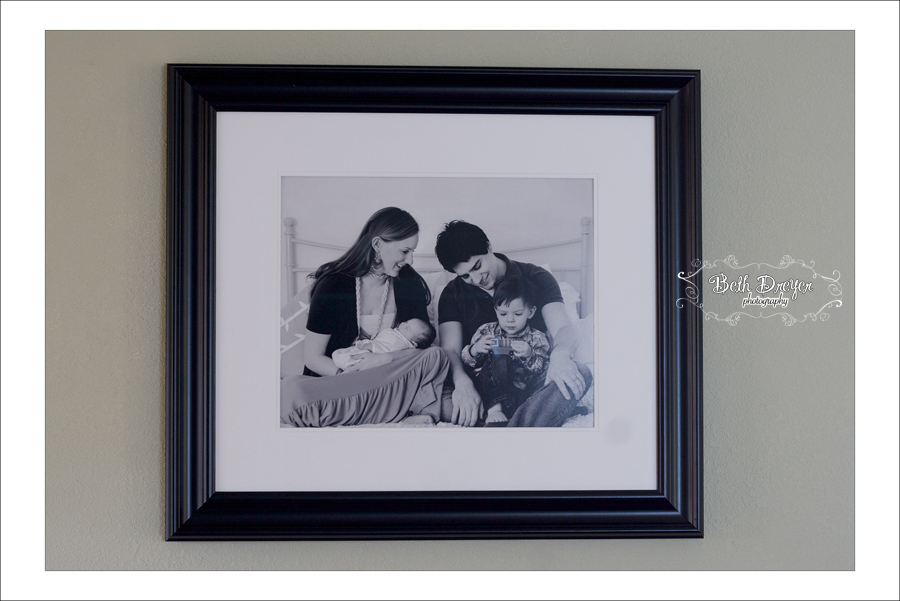 This was the first time that I've been a photography client.  I feel like we gave ourselves a gift that will only grow in value over time.  I love that I get to do this for people.  I value photography so much that I'm willing to save up and spend my hard earned money to have someone else do it for me when I can't do it for myself.
I'm writing this to you today as both a mom and a photographer.  If you are on the fence about having newborn photography done, or any kind of family photography for that matter, think about it with the long term in mind.  Maybe today it might be a little tight financially to have pictures done and then to buy prints and have them framed.  But ten, fifteen, or twenty years from now you'll be so glad that you did.  Have photos done by me or by Claire or someone else, but do it!  Do it for your future self.  For your future children and grandchildren.  I really believe that investing in quality photography is not something you or I will ever regret.