It was somewhere around three in the morning and I was obviously awake.  I'm late in my third trimester, that point when sleep speeds off down the road ahead of you like a maniacal demon pausing to look back at you to point and laugh.  I had searing pain in both hips, the muscles above my right hip were cramped (who knew there were muscles there and that they could cramp?), and I was completely exhausted.  Oh and I had to pee.  Of course.  This is sleep when you get near the end of pregnancy (for most).  Somehow my husband had managed to swing part of his leg under the giant body sized pillow that was laying in the center of our bed like a dividing line, and I pushed it away with a tangible anger which I sincerely hoped that he felt (he did).  How dare he sleep comfortably and peacefully while I was so miserable?  And if he did dare, why on EARTH would he be inconsiderate enough to have so much as a hair on my side of the bed?!?
The next morning after waking up for the fourth and final time, I groaned and painfully sat up in bed.  He was already awake, looking at his phone and I sat there waiting a full three or four minutes for him to ask me how I was doing.  With every second that passed I grew more and more angry.  What is wrong with him?!?  Why doesn't he immediately bestow compassion upon me as soon as my eyes open for what he must know by now could not have been a good night's sleep?!  When he finally did pause long enough to look up from his phone and ask me how I'd slept, I was so angry that it took me about a full minute to put words together.  After I gave some short and sassy answer about being up all night, I decided to soothe my aching body with a hot bath.  He came in after a little while and asked me what I wanted for breakfast.
"I want the leftover breakfast casserole from yesterday."
"Did you want all of it?  Or just some of it?"
"Well how much was there?"
"Well, I mean when I put it into a baggie yesterday I made it into two pieces…
I kinda wanted some.
I mean, I guess it's not that much.You can have it.  I'll just… you can have it.  I'll heat it up for you."
It's not his first rodeo.
A few minutes after I had gotten out of the bath and back into bed, he came back and and handed me the plate, saying "Sorry it's a little charred on top."  I glared, hating myself for being rude but truly angry at the same time.  He turned around and high tailed it back to the kitchen.  It wasn't a 'little' charred on top, it was completely charred on top.  There was no way I could eat it in bed because my fork would cause black flakes to go flying in every direction the moment it made contact.  I hauled myself out of bed and lumbered down the hallway to the kitchen where I sent silent seething vibes at my husband as I sat down at the table to peel the burnt layer of the casserole off of the still edible portion.  He had the decency to further apologize as I ate in stony silence.
I had to get back in bed.  My whole body was crying out for more sleep but was in so much pain that I couldn't relax.  I briefly weighed the pros and cons tracking down my chiropractor's personal cell phone number and begging him to drive an hour across town through the ensuing ice storm on a Sunday to come adjust every bone in my body, but decided that might be taking things a bit far.  Instead, I set my diffuser with a calming oil blend, I put on an eye mask and focused on breathing in and out.  "I will not be this uncomfortable every moment for the next six weeks.  Today is a rough day.  I will feel better soon.  In two months I will be back in this bed, just as tired but with a sweet baby in my arms."  I breathed in and out, and starting with my toes, focused on relaxing my whole body until I fell into a half sleep.  After an hour or so I woke up.  Between the relaxation and the blood sugar stabilization from the charred breakfast casserole, I managed to come around enough to find my actual personality and discard scary third-trimester angry-mommy personality.  I got up to go to the bathroom (obviously) and looked in the mirror.  Upon seeing the state of my tired face and noting my terrible breath and wild hair, I decided that I should really be grateful that my husband even wants to be near me at all in his sleep.  I got back in bed with a book and he sent the cute little one in to snuggle with me.  A wise move.  After a nice snuggle I was finally ready to face the day.  Not necessarily ready to get out of my pajamas or comb my hair or anything crazy like that mind you.  But at least to be awake without wanting to kill anyone.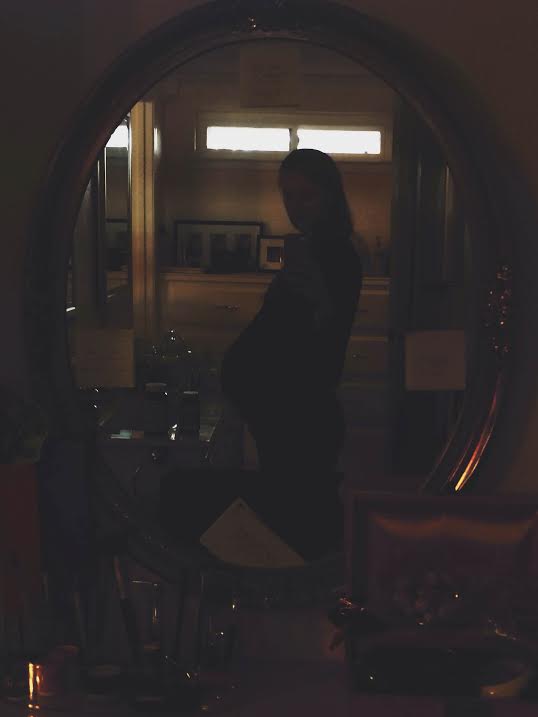 Related posts: