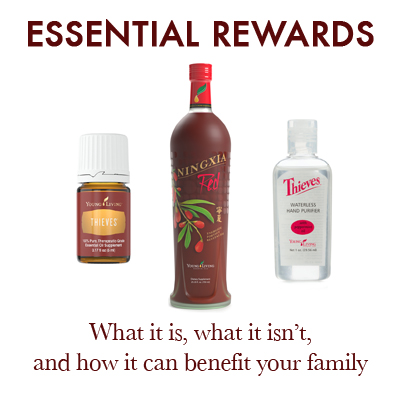 Has anyone told you about Essential Rewards?  Do you see your crazy oily friends posting photos of their monthly oil orders and wonder what they're so excited about?  Did someone try to explain it to you but you glazed over when you heard the words 'auto-ship?'  Well this post is for you my friend.
First of all let me tell you what Essential Rewards is not.
ER (that's what those in the know call it ;-)) is not a program in which you sell your life away committing to buy things you don't need without ever having a way out that doesn't involve a hand-written cancellation letter signed with the blood of a virgin.  It is not committing to 'sell' Young Living Products or to host classes, nag your friends, or pester your mother in law.  And lastly ER is not scary.
So if it's not any of those things, what is it?  Well I'm glad you asked.
Essential Rewards is Young Living's free autoship program which gives participants access to discounted shipping rates, the ability to earn points (like credit card points), and the option to earn extra freebies each month.  As I said it's free to join, you can cancel at any time with a mere phone call (no virgins required) AND you get one grace month each year for when life happens and you just can't squeeze it in the budget that month.  You also aren't locked into a specific day that your order is placed!  If you want your order to be placed on the first of one month and the 25th of the next month, that's totally cool.  All you need to do is put the products in your cart that you want, and as you complete the process, you'll be able to select which day you want the order to go through and which card you want to use.
Now let's talk about those points I mentioned.
For the first six months you're enrolled in Essential Rewards, you recieve 10% of the points you spend back.  Each product is assigned a Point Value or PV.  For the most part, the PV and the price are the same number.  So if you order $65/65 PV worth of products, you'll get 6.50 PV back in your little Young Living points account.  From months 7-12 when you're enrolled in ER, this amount jumps to 15%, so on that same 65 PV order you're now getting 9.75 points back.  Then from months 13 on, you recieve 20% back!  Now on that 65 PV order you're recieving 13 points back.  It's like free money!
Well what am I going to buy every month?  I have the PSK, what else could I need?
I'm so glad you asked.  Did you know that Young Living doesn't just have oils?  Did you know that they have chemical free and oil infused toothpastes, mouthwash, hand soap, lotions, and skin care products?  Did you know that they have world class supplements, all-natural energy drinks, and protein powder?  Did you know that there are all kinds of other oils besides the ones that came in your starter kit that can support your emotional health as well as support your body's different systems?  Did you know that there are oils that create cologne like scents which also support your man's hormones?!  You didn't?  Well now you know!  One thing I really recommend to everyone is to start drinking Ningxia Red.  Ningxia Red was a game changer for me.  I love that I'm getting a whole host of nutrients by drinking something yummy that helps boost my energy levels!  Win-win!  I also have developed some every day oil routines, and I have different oils that I stock up on for each season.  Because of all of these things, including my determination to have a chemical free home, ordering products every month and being on Essential Rewards is a no-brainer for me.  Especially as I'm rapidly approaching the 20% back mark with my points accumulation! (cue nerdy excited dance) I'm ordering things like toothpastes (both kid and adult), supplements (both kid and adult), Ningxia Red (for the family), plus any oils that are running low or that I want to add to my arsenal, am getting better shipping rates, AND am getting points back which I can use to get products I need or want to try for free!
Goodies
I also mentioned qualifying for free goodies didn't I?  Well not only can you get free goodies with your points, you also qualify for monthly freebies as well.  I know.  I just keeps getting better.  Each month, Young Living does a promotion offering free bonus products for those who place 190, 250, or 300 PV orders.  Anyone who places an order in these point increments will receive bonus products, but each month there is an ADDITIONAL bonus product for ER customers.  Praise Him.  This month I am getting over $200 of free stuff y'all.  And that was without even using my points!!!  This monthly promotion has been the most awesome way for me to try new oils and products, because often the bonus products are things that I really wanted but couldn't squeeze in my budget, OR just didn't know how to use and didn't want to order myself.  Some of my favorite oils now were oils that I received as a bonus for free.  For instance, Vetiver.  It was the free oil earlier this year, but I didn't know anything about it so I would never have ordred it for myself.  When I got it for free, I started using it and discovered that after it sits on the skin for a few minutes, it smells like cologne (the first couple of minutes it smells like grass, persevere)!  And I LOVE it!!  It is now Jake's go-to cologne and it's completely chemical free and benefitting his body at the same time!
Now let me go back up to where I said 190, 250, and 300 PV orders.  Yes that generally does translate into $190, $250, and $300.  But before you freak out and decide you don't have that in your budget, just remember that we are talking about replacement buying bath, body, and laundry products, supplements, energy drinks and even cologne (!!) as well as oils.  Consider ways that you will begin to save money as your family's wellness improves and you spend less money on sickness.  For me, at first I barely had the $50 per month in my budget.  I basically signed up in faith.  But I really felt like God was telling me to just USE the oils and USE the products without worrying so much about them running out.  And you know what, He has provided.
SO take stock, look at the high quality products that Young Living has which you use in daily life, pray, and see if Essential Rewards is the money-saving blessing for your family that it has been for ours!  (And if it's not, no worries!)
Related posts: