When I first got married, I was the least imaginative cook ever.  I was not very experienced with cooking and I completely lacked cooking vision.  At the end of the day I wanted to come home and eat, not come home and cook!  My grocery shopping was also uninspired.  I had a wildly limiting budget and I basically went to Wal-Mart and bought the cheapest tiniest meat packs, whatever frozen veggies were on sale, the cheapest bread, the cheapest lunch meat, an avocado if I was splurging, the cheapest pasta and sauce, and zero snacks.  When it was time to cook, I'd look at the cute little spice rack I'd gotten as a wedding present, throw some spices on my tiny little pieces of meat, and grill them in my George Foreman grill.  I wish I was lying.  There was no variety, no real plan and we were always hungry when we went to bed.  But on the plus side, we were the only couple we knew who didn't gain any weight after we got married!
Needless to say, things have changed.
Now I enjoy cooking and experimenting with recipes.  I also meal plan every week no matter what, and I spend about as much on food as I do on my mortgage payment.  And while budget is of course still a very present and imposing force, it is not longer the only deciding factor for me.  Now, I buy the best-priced, best quality food I can find, instead of just the cheapest.  Oh and there are definitely snacks now.  You may know me as the super health-nut crazy lady but believe you me, I was not always so concious of what I put in my mouth.  My entire first pregnancy I ate frozen pizza and buffalo wings 2-3 times a week.  In my most recent pregnancy I followed a Weston Price diet.  The two could not be more different.  I could not be more different!  I am a walking testimony to how people can change.
One of the things I did years and years ago which helped me to enjoy cooking more was to sign up for eMeals.  EMeals is an online meal planning service which is endorsed by Dave Ramsey.  Back when we were working to get out of debt and listened to Dave on the radio all the time, I decided to give eMeals a try.  It was great for me at the time!  It gave me a dinner menu for 7 days, a corresponding grocery list, and even a store that went along with the list.  So if I had the 7-day meal plan for two people at Kroger, it could tell me exactly how much my dinners were going to cost!  I was making new meals I hadn't tried before, and everything was planned out for me, I just made minor adjustments here and there.  It was a fantastic solution for where I was at the time!
Eventually as our lifestyle changed I grew out of eMeals (they actually have tons more options now than they did then) and tried a meal plan service from a real food blogger, but her meal plans, while fabulous were just too expensive for me.  It was time for me to blaze my own trail and start figuring out how to plan my own meals based on our real food goals and lifestyle that didn't cost an arm and a leg.  One of the contributing lifestyle factors was (and is) that during baseball season which is basically half of the year, Jake works in the tech room for our local minor league team.  This will be his eighth year.  He does this because it's an enjoyable way for him to bring in some extra income for us.  I say enjoyable – he loves the work itself, but of course it's hard working a full time job and then going to another five or so hours of work in the heat of the summer.  But I digress.  Because he goes from his main job straight to baseball games, he misses dinner with us.  And because the main purpose of this job is to bring in extra income, it doesn't make sense for him to spend money eating dinner out 10-20 times per month.  I had to start getting creative and planning our meals so that he could pack both his lunch and his dinner in the morning before he leaves for work.  It's a big task that requires more thinking than I like, but I've been doing it for years so I'm getting better at it!  I plan nourishing, organic, real food meals that we can eat as a family and that can be eaten as cold (most of the time) leftovers for Jake when he's working.
I hang my meal plan on the side of the fridge, right next to this handy dandy ongoing grocery list.  This list is a magnetic tear pad, which is awesome.  Just mark off what you're out of throughout the week and then tear it off and take it to the store.  I bought these pads for years, but eventually I just laminated the very last sheet and now I reuse that as well.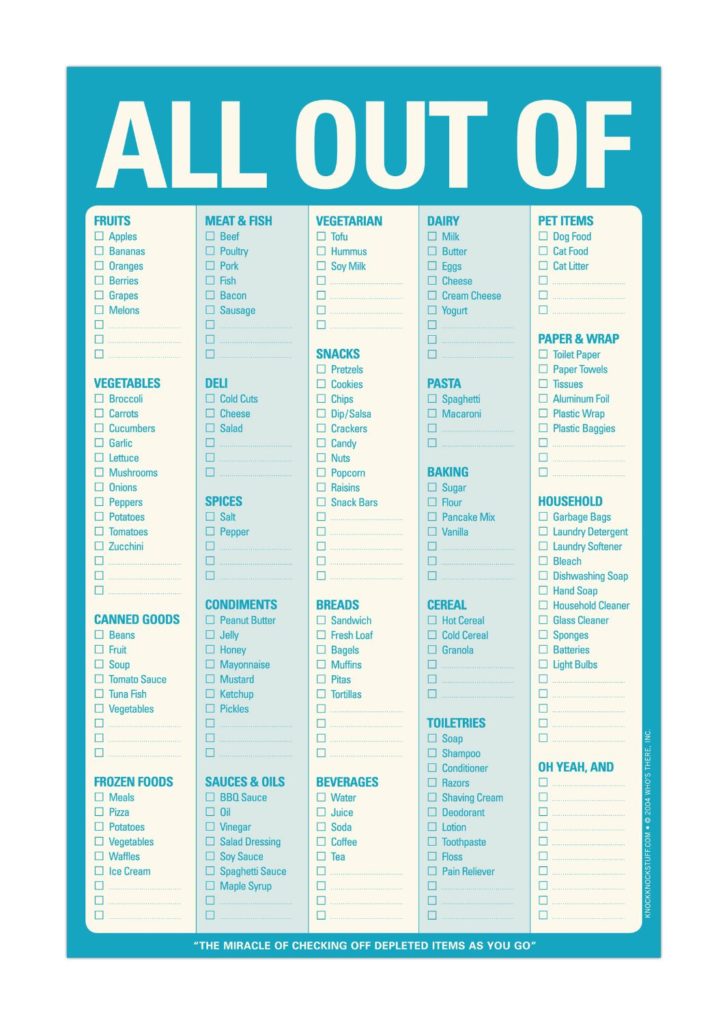 Internet, I am not super consistent in very many areas.  I can go months at a time where I do a great job keeping up with my house, and months at a time where I don't.  I have gone through seasons of blogging every Monday, Wednesday, and Friday and seasons where it happens when it happens.  I have seasons where I work out daily and seasons where I don't work out hardly at all.  But in this area of meal planning, I have been extremely consistent for the past five years or so.  It makes such a difference in so many ways!  There's peace of mind that when it's time to start making dinner, there's actually a plan and ingredients to implement that plan.  It is so much better for the budget.  Instead of, "Oh crap it's dinner time and there's nothing in my pantry, let's go out!" there IS food in the pantry.  Of course there are still those days when you want to scrap the plan and go out anyway, but at least you have set yourself up for sucess.  And finally it's soooooo much healthier to eat at home than to eat out.  Even if you're not as granola as I am with what you're making, consistenly eating at home is usually going to be better for your health than consistntly eating out – or for that matter consistently feeding your kids chicken nuggets while you eat a bag of chips.  I'm not judging, I've been there too!  Another area I've become pretty consistent and disciplined with my grocery shopping.  Mama shops on Friday, and she doesn't go back three or four times during the week.  If we eat it up, it's gone till next Friday.  I don't constantly pick things up here and there throughout the week.  I don't have the budget for it, nor frankly the inclination.  We homeschool, so my three boys are with me all day every day.  I don't really want to pack up and take three kids to the grocery store more than once a week thankyouverymuch.
Ok at this point I feel like I've rambled and told you way more than you probably care to know.  The point of this blog post is that I recently decided to design myself a new meal planning page based on my style of planning to pump myself up for meal planning during baseball season.  I posted a photo of it on Instagram, and a few people were interested, so I thought I'd share it here with you!  Previously, I had been using this meal planning sheet, which is where I based my design.  I just reconfigured some things, and made it fit my personality.  I printed two for myself and laminated them so I can reuse them week after week.  That way I can have one week going and one week to plan.  I have a list of our favorite meals down the right hand side, but there is space for you to write in some of yours, and hey you may be inspired to try something new!  For those who are interested, Booby Stew is the name that Ashley gave this Persian Lactation Stew after I made it for one of our friends who had just had a baby.  She's a funny girl that one.
You can download a free .pdf of my meal planning sheet here.  Below are links to some of the recipes of from my 'Favorite Meals' list.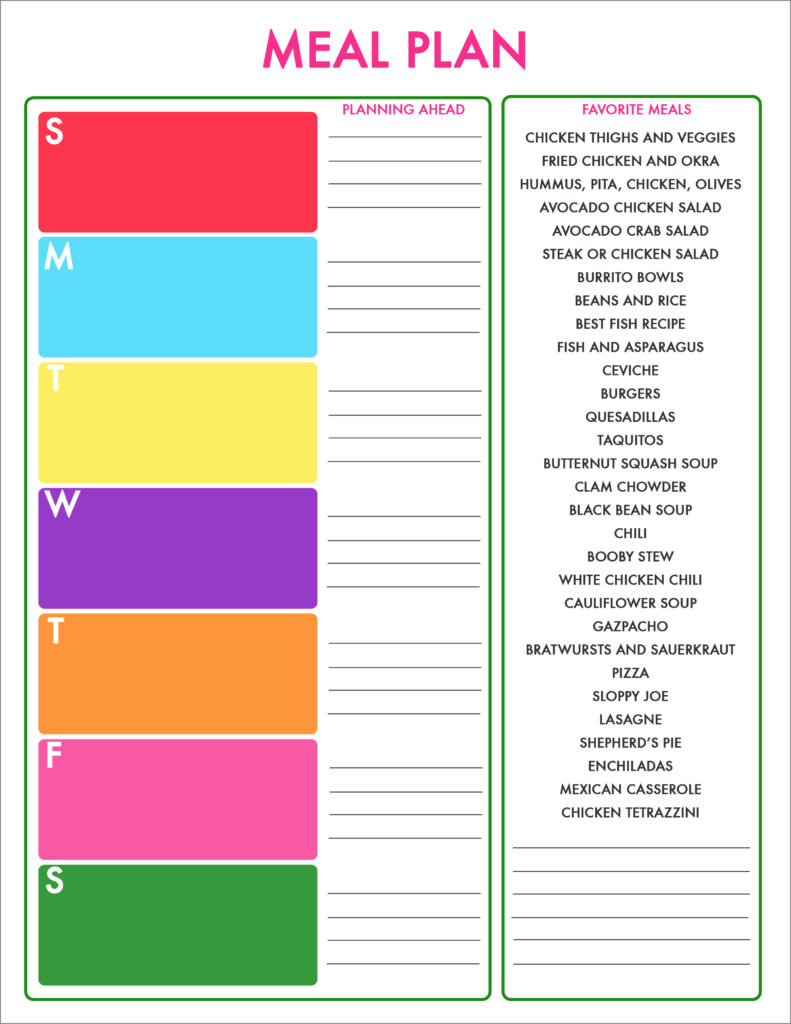 Avocado Chicken Salad
Avocado Crab Salad
Easy Mexican Beans and RiceBest Fish Recipe
Taquitos
Curried Butternut Squash and Pear Soup
Texas Clam Chowder
Beef and Liver Chili
Persian Lactation 'Booby' Stew
Pioneer Woman's Cauliflower Soup
Cha Cha's White Chicken Chili
Soaked Pizza Crust
Sloppy Joe
Paleaosagne (I adapt this slightly because I'm not Paleo.  Cheese is a necessary part of life over here)
Butternut Squash Shepherd's Pie
Avocado Enchiladas
Mexican Casserole
Chicken Tetrazzini
Happy meal planning!
Related posts: